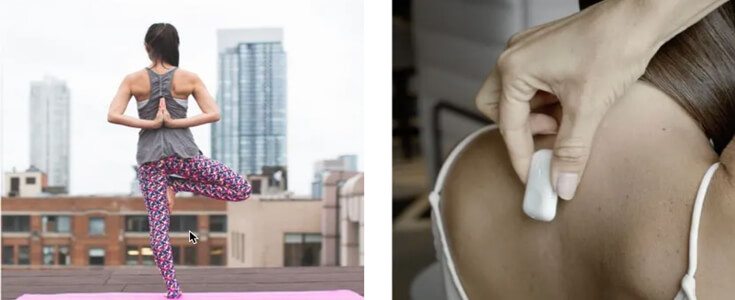 Small LiPo Battery 115mAh for Posture Trainer

A posture trainer is a new & smart design for the healthy posture you want via biofeedback. The posture trainer can analyze your whole day data then build your healthy habits. When your posture is incorrect, you will get a soft vibration reminder. It's a minimal design with a smaller lipo battery 115mAh comfortable fits for everybody. Posture correction strengthens the muscles that hold your body in proper alignment throughout the day. Your personal posture trainer is a small design that comfortably fits everybody—gentle vibration reminders for instant posture correction—daily posture analysis for building healthy habits.

A posture corrector gives a simple reminder to correct your alignment when you recline. The Upright Necklace gives you a convenient and flexible alternative to adhesives. Made from high-grade silicone, it clicks right into your GO device and fastens magnetically for a secure and comfortable fit around your neck.

Specification

Charge Time: 2-3 hours
Input Type: Micro USB
Power: 0 dBm
Power Source: LiPo Battery
life: 8-12 hours
Batteries: LiPo Battery 3.7V 115mAh 0.426Wh
Height: 2.17 in./5.52 cm
Width: 1.30 in./3.31 cm
Depth: 0.45 in./1.16 cm
Weight: 12g
Working time: 10-35 hours

Accessories: Reusable silicon adhesive, adhesive removal tool, USB charging cable, lipo battery 3.7V 110mAh and a case.
LiPo Battery 3.7V 115mAh

with protection circuit and wires 30mm
| | |
| --- | --- |
| Battery Type | LiPo Battery |
| Part Number | LP401323 |
| Voltage @ Capacity | 3.7V @ 115mAh 0.43Wh |
| Comfiguration | 1S1P |
| Wires | UL1571 AWG30 20mm*2 |
| | DF52-2P-0.8C |
| Cut-off Voltage | 2.75V |
| Thermistor (NTC) | NO |
| Dimension | 4,0 x 13 x 23mm |
| Charge Temperature | 0°C to +45°C |
| Discharge Temperature | -20°C to +60°C |
| Storage Temperature | -20°C to +45°C |
LiPo Batteries 100mAh + List

| | | | |
| --- | --- | --- | --- |
| model | capacity | Dimensions | Voltage |
| LP221838 | 100 mAh | 2.2 * 18 * 38 mm | 3.7V |
| LP241838 | 100 mAh | 2.4 * 18 * 38 mm | 3.7V |
| LP301045 | 100 mAh | 3 * 10 * 45 mm | 3.7V |
| LP301050 | 100 mAh | 3 * 10 * 50 mm | 3.7V |
| LP301226 | 100 mAh | 3 * 12 * 26 mm | 3.7V |
| LP301723 | 100 mAh | 3 * 17 * 23 mm | 3.7V |
| LP321730 | 100 mAh | 3.2 * 17 * 30 mm | 3.7V |
| LP322022 | 100 mAh | 3.2 * 20 * 22 mm | 3.7V |
| LP351133 | 100 mAh | 3.5 * 11 * 33 mm | 3.7V |
| LP351135 | 100 mAh | 3.5 * 11 * 35 mm | 3.7V |
| LP351525 | 100 mAh | 3.5 * 15 * 25 mm | 3.7V |
| LP351624 | 100 mAh | 3.5 * 16 * 24 mm | 3.7V |
| LP361222 | 100 mAh | 3.6 * 12 * 22 mm | 3.7V |
| LP371426 | 100 mAh | 3.7 * 14 * 26 mm | 3.7V |
| LP381230 | 100 mAh | 3.8 * 12 * 30 mm | 3.7V |
| LP381525 | 100 mAh | 3.8 * 15 * 25 mm | 3.7V |
| LP381528 | 100 mAh | 3.8 * 15 * 28 mm | 3.7V |
| LP400746 | 100 mAh | 4 * 7 * 46 mm | 3.7V |
| LP400833 | 100 mAh | 4 * 8 * 33 mm | 3.7V |
| LP400835 | 100 mAh | 4 * 8 * 35 mm | 3.7V |
| LP400933 | 100 mAh | 4 * 9 * 33 mm | 3.7V |
| LP401033 | 100 mAh | 4 * 10 * 33 mm | 3.7V |
| LP401230 | 100 mAh | 4 * 12 * 30 mm | 3.7V |
| LP401425 | 100 mAh | 4 * 14 * 25 mm | 3.7V |
| LP401522 | 100 mAh | 4 * 15 * 22 mm | 3.7V |
| LP401552 | 100 mAh | 4 * 15 * 52 mm | 3.7V |
| LP401622 | 100 mAh | 4 * 16 * 22 mm | 3.7V |
| LP420833 | 100 mAh | 4.2 * 8 * 33 mm | 3.7V |
| LP421225 | 100 mAh | 4.2 * 12 * 25 mm | 3.7V |
| LP421645 | 100 mAh | 4.2 * 16 * 45 mm | 3.7V |
| LP450930 | 100 mAh | 4.5 * 9 * 30 mm | 3.7V |
| LP451030 | 100 mAh | 4.5 * 10 * 30 mm | 3.7V |
| LP451225 | 100 mAh | 4.5 * 12 * 25 mm | 3.7V |
| LP451522 | 100 mAh | 4.5 * 15 * 22 mm | 3.7V |
| LP470837 | 100 mAh | 4.7 * 8 * 37 mm | 3.7V |
| LP500830 | 100 mAh | 5 * 8 * 30 mm | 3.7V |
| LP500831 | 100 mAh | 5 * 8 * 31 mm | 3.7V |
| LP500832 | 100 mAh | 5 * 8 * 32 mm | 3.7V |
| LP500929 | 100 mAh | 5 * 9 * 29 mm | 3.7V |
| LP500930 | 100 mAh | 5 * 9 * 30 mm | 3.7V |
| LP501026 | 100 mAh | 5 * 10 * 26 mm | 3.7V |
| LP501028 | 100 mAh | 5 * 10 * 28 mm | 3.7V |
| LP501223 | 100 mAh | 5 * 12 * 23 mm | 3.7V |
| LP501518 | 100 mAh | 5 * 15 * 18 mm | 3.7V |
| LP501520 | 100 mAh | 5 * 15 * 20 mm | 3.7V |
| LP521816 | 100 mAh | 5.2 * 18 * 16 mm | 3.7V |
| LP531220 | 100 mAh | 5.3 * 12 * 20 mm | 3.7V |
| LP531221 | 100 mAh | 5.3 * 12 * 21 mm | 3.7V |
| LP551419 | 100 mAh | 5.5 * 14 * 19 mm | 3.7V |
| LP551520 | 100 mAh | 5.5 * 15 * 20 mm | 3.7V |
| LP601419 | 100 mAh | 6 * 14 * 19 mm | 3.7V |
| LP601717 | 100 mAh | 6 * 17 * 17 mm | 3.7V |
| LP361720 | 105 mAh | 3.6 * 17 * 20 mm | 3.7V |
| LP371040 | 105 mAh | 3.7 * 10 * 40 mm | 3.7V |
| LP400840 | 105 mAh | 4 * 8 * 40 mm | 3.7V |
| LP451421 | 105 mAh | 4.5 * 14 * 21 mm | 3.7V |
| LP581519 | 105 mAh | 5.8 * 15 * 19 mm | 3.7V |
| LP651123 | 105 mAh | 6.5 * 11 * 23 mm | 3.7V |
| LP153040 | 110 mAh | 1.5 * 30 * 40 mm | 3.7V |
| LP252030 | 110 mAh | 2.5 * 20 * 30 mm | 3.7V |
| LP301728 | 110 mAh | 3 * 17 * 28 mm | 3.7V |
| LP301828 | 110 mAh | 3 * 18 * 28 mm | 3.7V |
| LP302025 | 110 mAh | 3 * 20 * 25 mm | 3.7V |
| LP302323 | 110 mAh | 3 * 23 * 23 mm | 3.7V |
| LP322225 | 110 mAh | 3.2 * 22 * 25 mm | 3.7V |
| LP331530 | 110 mAh | 3.3 * 15 * 30 mm | 3.7V |
| LP371229 | 110 mAh | 3.7 * 12 * 29 mm | 3.7V |
| LP371230 | 110 mAh | 3.7 * 12 * 30 mm | 3.7V |
| LP381524 | 110 mAh | 3.8 * 15 * 24 mm | 3.7V |
| LP381530 | 110 mAh | 3.8 * 15 * 30 mm | 3.7V |
| LP381725 | 110 mAh | 3.8 * 17 * 25 mm | 3.7V |
| LP382120 | 110 mAh | 3.8 * 21 * 20 mm | 3.7V |
| LP392020 | 110 mAh | 3.9 * 20 * 20 mm | 3.7V |
| LP400838 | 110 mAh | 4 * 8 * 38 mm | 3.7V |
| LP400935 | 110 mAh | 4 * 9 * 35 mm | 3.7V |
| LP401035 | 110 mAh | 4 * 10 * 35 mm | 3.7V |
| LP401133 | 110 mAh | 4 * 11 * 33 mm | 3.7V |
| LP401228 | 110 mAh | 4 * 12 * 28 mm | 3.7V |
| LP401524 | 110 mAh | 4 * 15 * 24 mm | 3.7V |
| LP402020 | 110 mAh | 4 * 20 * 20 mm | 3.7V |
| LP421130 | 110 mAh | 4.2 * 11 * 30 mm | 3.7V |
| LP430936 | 110 mAh | 4.3 * 9 * 36 mm | 3.7V |
| LP431426 | 110 mAh | 4.3 * 14 * 26 mm | 3.7V |
| LP450833 | 110 mAh | 4.5 * 8 * 33 mm | 3.7V |
| LP450838 | 110 mAh | 4.5 * 8 * 38 mm | 3.7V |
| LP451226 | 110 mAh | 4.5 * 12 * 26 mm | 3.7V |
| LP451423 | 110 mAh | 4.5 * 14 * 23 mm | 3.7V |
| LP481621 | 110 mAh | 4.8 * 16 * 21 mm | 3.7V |
| LP501225 | 110 mAh | 5 * 12 * 25 mm | 3.7V |
| LP521225 | 110 mAh | 5.2 * 12 * 25 mm | 3.7V |
| LP522125 | 110 mAh | 5.2 * 21 * 25 mm | 3.7V |
| LP601025 | 110 mAh | 6 * 10 * 25 mm | 3.7V |
| LP601220 | 110 mAh | 6 * 12 * 20 mm | 3.7V |
| LP601519 | 110 mAh | 6 * 15 * 19 mm | 3.7V |
| LP701717 | 110 mAh | 7 * 17 * 17 mm | 3.7V |
| LP401323 | 115 mAh | 4 * 13 * 23 mm | 3.7V |
| LP511223 | 115 mAh | 5.1 * 12 * 23 mm | 3.7V |
| LP531030 | 115 mAh | 5.3 * 10 * 30 mm | 3.7V |
| LP701220 | 115 mAh | 7 * 12 * 20 mm | 3.7V |
| LP751220 | 115 mAh | 7.5 * 12 * 20 mm | 3.7V |
| LP251445 | 120 mAh | 2.5 * 14 * 45 mm | 3.7V |
| LP292125 | 120 mAh | 2.9 * 21 * 25 mm | 3.7V |
| LP301730 | 120 mAh | 3 * 17 * 30 mm | 3.7V |
| LP303232 | 120 mAh | 3 * 32 * 32 mm | 3.7V |
| LP311436 | 120 mAh | 3.1 * 14 * 36 mm | 3.7V |
| LP341921 | 120 mAh | 3.4 * 19 * 21 mm | 3.7V |
| LP351730 | 120 mAh | 3.5 * 17 * 30 mm | 3.7V |
| LP400848 | 120 mAh | 4 * 8 * 48 mm | 3.7V |
| LP400946 | 120 mAh | 4 * 9 * 46 mm | 3.7V |
| LP400950 | 120 mAh | 4 * 9 * 50 mm | 3.7V |
| LP401040 | 120 mAh | 4 * 10 * 40 mm | 3.7V |
| LP401135 | 120 mAh | 4 * 11 * 35 mm | 3.7V |
| LP401428 | 120 mAh | 4 * 14 * 28 mm | 3.7V |
| LP401523 | 120 mAh | 4 * 15 * 23 mm | 3.7V |
| LP401525 | 120 mAh | 4 * 15 * 25 mm | 3.7V |
| LP401725 | 120 mAh | 4 * 17 * 25 mm | 3.7V |
| LP402120 | 120 mAh | 4 * 21 * 20 mm | 3.7V |
| LP402222 | 120 mAh | 4 * 22 * 22 mm | 3.7V |
| LP412318 | 120 mAh | 4.1 * 23 * 18 mm | 3.7V |
| LP422119 | 120 mAh | 4.2 * 21 * 19 mm | 3.7V |
| LP431230 | 120 mAh | 4.3 * 12 * 30 mm | 3.7V |
| LP441133 | 120 mAh | 4.4 * 11 * 33 mm | 3.7V |
| LP441422 | 120 mAh | 4.4 * 14 * 22 mm | 3.7V |
| LP450840 | 120 mAh | 4.5 * 8 * 40 mm | 3.7V |
| LP451524 | 120 mAh | 4.5 * 15 * 24 mm | 3.7V |
| LP451725 | 120 mAh | 4.5 * 17 * 25 mm | 3.7V |
| LP481324 | 120 mAh | 4.8 * 13 * 24 mm | 3.7V |
| LP481525 | 120 mAh | 4.8 * 15 * 25 mm | 3.7V |
| LP501030 | 120 mAh | 5 * 10 * 30 mm | 3.7V |
| LP551323 | 120 mAh | 5.5 * 13 * 23 mm | 3.7V |
| LP551423 | 120 mAh | 5.5 * 14 * 23 mm | 3.7V |
| LP551522 | 120 mAh | 5.5 * 15 * 22 mm | 3.7V |
| LP600940 | 120 mAh | 6 * 9 * 40 mm | 3.7V |
| LP601223 | 120 mAh | 6 * 12 * 23 mm | 3.7V |
| LP601225 | 120 mAh | 6 * 12 * 25 mm | 3.7V |
| LP651024 | 120 mAh | 6.5 * 10 * 24 mm | 3.7V |
| LP681123 | 120 mAh | 6.8 * 11 * 23 mm | 3.7V |
| LP701023 | 120 mAh | 7 * 10 * 23 mm | 3.7V |
| LP701120 | 120 mAh | 7 * 11 * 20 mm | 3.7V |
| LP801023 | 120 mAh | 8 * 10 * 23 mm | 3.7V |
| LP831517 | 120 mAh | 8.3 * 15 * 17 mm | 3.7V |
| LP951617 | 120 mAh | 9.5 * 16 * 17 mm | 3.7V |
| LP321532 | 125 mAh | 3.2 * 15 * 32 mm | 3.7V |
| LP411039 | 125 mAh | 4.1 * 10 * 39 mm | 3.7V |
| LP421133 | 125 mAh | 4.2 * 11 * 33 mm | 3.7V |
| LP421724 | 125 mAh | 4.2 * 17 * 24 mm | 3.7V |
| LP651518 | 125 mAh | 6.5 * 15 * 18 mm | 3.7V |
| LP242530 | 130 mAh | 2.4 * 25 * 30 mm | 3.7V |
| LP251744 | 130 mAh | 2.5 * 17 * 44 mm | 3.7V |
| LP322025 | 130 mAh | 3.2 * 20 * 25 mm | 3.7V |
| LP342323 | 130 mAh | 3.4 * 23 * 23 mm | 3.7V |
| LP351626 | 130 mAh | 3.5 * 16 * 26 mm | 3.7V |
| LP351729 | 130 mAh | 3.5 * 17 * 29 mm | 3.7V |
| LP352025 | 130 mAh | 3.5 * 20 * 25 mm | 3.7V |
| LP361150 | 130 mAh | 3.6 * 11 * 50 mm | 3.7V |
| LP381921 | 130 mAh | 3.8 * 19 * 21 mm | 3.7V |
| LP381922 | 130 mAh | 3.8 * 19 * 22 mm | 3.7V |
| LP401235 | 130 mAh | 4 * 12 * 35 mm | 3.7V |
| LP401429 | 130 mAh | 4 * 14 * 29 mm | 3.7V |
| LP451230 | 130 mAh | 4.5 * 12 * 30 mm | 3.7V |
| LP481037 | 130 mAh | 4.8 * 10 * 37 mm | 3.7V |
| LP500935 | 130 mAh | 5 * 9 * 35 mm | 3.7V |
| LP500938 | 130 mAh | 5 * 9 * 38 mm | 3.7V |
| LP501040 | 130 mAh | 5 * 10 * 40 mm | 3.7V |
| LP501130 | 130 mAh | 5 * 11 * 30 mm | 3.7V |
| LP501328 | 130 mAh | 5 * 13 * 28 mm | 3.7V |
| LP501621 | 130 mAh | 5 * 16 * 21 mm | 3.7V |
| LP511328 | 130 mAh | 5.1 * 13 * 28 mm | 3.7V |
| LP521228 | 130 mAh | 5.2 * 12 * 28 mm | 3.7V |
| LP521522 | 130 mAh | 5.2 * 15 * 22 mm | 3.7V |
| LP551521 | 130 mAh | 5.5 * 15 * 21 mm | 3.7V |
| LP581323 | 130 mAh | 5.8 * 13 * 23 mm | 3.7V |
| LP601125 | 130 mAh | 6 * 11 * 25 mm | 3.7V |
| LP701024 | 130 mAh | 7 * 10 * 24 mm | 3.7V |
| LP701222 | 130 mAh | 7 * 12 * 22 mm | 3.7V |
| LP751258 | 130 mAh | 7.5 * 12 * 58 mm | 3.7V |
| LP751418 | 130 mAh | 7.5 * 14 * 18 mm | 3.7V |
| LP104843 | 130 mAh | 10 * 48 * 43 mm | 3.7V |
| LP351534 | 135 mAh | 3.5 * 15 * 34 mm | 3.7V |
| LP352323 | 135 mAh | 3.5 * 23 * 23 mm | 3.7V |
| LP202731 | 140 mAh | 2 * 27 * 31 mm | 3.7V |
| LP263028 | 140 mAh | 2.6 * 30 * 28 mm | 3.7V |
| LP302028 | 140 mAh | 3 * 20 * 28 mm | 3.7V |
| LP302030 | 140 mAh | 3 * 20 * 30 mm | 3.7V |
| LP321343 | 140 mAh | 3.2 * 13 * 43 mm | 3.7V |
| LP401036 | 140 mAh | 4 * 10 * 36 mm | 3.7V |
| LP401430 | 140 mAh | 4 * 14 * 30 mm | 3.7V |
| LP401630 | 140 mAh | 4 * 16 * 30 mm | 3.7V |
| LP431038 | 140 mAh | 4.3 * 10 * 38 mm | 3.7V |
| LP501033 | 140 mAh | 5 * 10 * 33 mm | 3.7V |
| LP501035 | 140 mAh | 5 * 10 * 35 mm | 3.7V |
| LP502020 | 140 mAh | 5 * 20 * 20 mm | 3.7V |
| LP531229 | 140 mAh | 5.3 * 12 * 29 mm | 3.7V |
| LP601323 | 140 mAh | 6 * 13 * 23 mm | 3.7V |
| LP601520 | 140 mAh | 6 * 15 * 20 mm | 3.7V |
| LP611522 | 140 mAh | 6.1 * 15 * 22 mm | 3.7V |
| LP701421 | 140 mAh | 7 * 14 * 21 mm | 3.7V |
| LP303321 | 145 mAh | 3 * 33 * 21 mm | 3.7V |
| LP501230 | 145 mAh | 5 * 12 * 30 mm | 3.7V |
| LP501231 | 145 mAh | 5 * 12 * 31 mm | 3.7V |
| LP701224 | 145 mAh | 7 * 12 * 24 mm | 3.7V |
| LP731126 | 145 mAh | 7.3 * 11 * 26 mm | 3.7V |
| LP252038 | 150 mAh | 2.5 * 20 * 38 mm | 3.7V |
| LP302228 | 150 mAh | 3 * 22 * 28 mm | 3.7V |
| LP322328 | 150 mAh | 3.2 * 23 * 28 mm | 3.7V |
| LP382025 | 150 mAh | 3.8 * 20 * 25 mm | 3.7V |
| LP401529 | 150 mAh | 4 * 15 * 29 mm | 3.7V |
| LP401633 | 150 mAh | 4 * 16 * 33 mm | 3.7V |
| LP402025 | 150 mAh | 4 * 20 * 25 mm | 3.7V |
| LP431720 | 150 mAh | 4.3 * 17 * 20 mm | 3.7V |
| LP451430 | 150 mAh | 4.5 * 14 * 30 mm | 3.7V |
| LP451525 | 150 mAh | 4.5 * 15 * 25 mm | 3.7V |
| LP452023 | 150 mAh | 4.5 * 20 * 23 mm | 3.7V |
| LP491133 | 150 mAh | 4.9 * 11 * 33 mm | 3.7V |
| LP492025 | 150 mAh | 4.9 * 20 * 25 mm | 3.7V |
| LP501227 | 150 mAh | 5 * 12 * 27 mm | 3.7V |
| LP501234 | 150 mAh | 5 * 12 * 34 mm | 3.7V |
| LP501428 | 150 mAh | 5 * 14 * 28 mm | 3.7V |
| LP501429 | 150 mAh | 5 * 14 * 29 mm | 3.7V |
| LP501525 | 150 mAh | 5 * 15 * 25 mm | 3.7V |
| LP531522 | 150 mAh | 5.3 * 15 * 22 mm | 3.7V |
| LP531529 | 150 mAh | 5.3 * 15 * 29 mm | 3.7V |
| LP551228 | 150 mAh | 5.5 * 12 * 28 mm | 3.7V |
| LP551230 | 150 mAh | 5.5 * 12 * 30 mm | 3.7V |
| LP601130 | 150 mAh | 6 * 11 * 30 mm | 3.7V |
| LP601522 | 150 mAh | 6 * 15 * 22 mm | 3.7V |
| LP621819 | 150 mAh | 6.2 * 18 * 19 mm | 3.7V |
| LP651120 | 150 mAh | 6.5 * 11 * 20 mm | 3.7V |
| LP681423 | 150 mAh | 6.8 * 14 * 23 mm | 3.7V |
| LP701025 | 150 mAh | 7 * 10 * 25 mm | 3.7V |
| LP701028 | 150 mAh | 7 * 10 * 28 mm | 3.7V |
| LP701128 | 150 mAh | 7 * 11 * 28 mm | 3.7V |
| LP701215 | 150 mAh | 7 * 12 * 15 mm | 3.7V |
| LP701323 | 150 mAh | 7 * 13 * 23 mm | 3.7V |
| LP751229 | 150 mAh | 7.5 * 12 * 29 mm | 3.7V |
| LP751520 | 150 mAh | 7.5 * 15 * 20 mm | 3.7V |
| LP761229 | 150 mAh | 7.6 * 12 * 29 mm | 3.7V |
| LP871518 | 150 mAh | 8.7 * 15 * 18 mm | 3.7V |
| LP901417 | 150 mAh | 9 * 14 * 17 mm | 3.7V |
| LP481523 | 155 mAh | 4.8 * 15 * 23 mm | 3.7V |
| LP601622 | 155 mAh | 6 * 16 * 22 mm | 3.7V |
| LP662018 | 155 mAh | 6.6 * 20 * 18 mm | 3.7V |
| LP202830 | 160 mAh | 2 * 28 * 30 mm | 3.7V |
| LP203030 | 160 mAh | 2 * 30 * 30 mm | 3.7V |
| LP261847 | 160 mAh | 2.6 * 18 * 47 mm | 3.7V |
| LP282730 | 160 mAh | 2.8 * 27 * 30 mm | 3.7V |
| LP302035 | 160 mAh | 3 * 20 * 35 mm | 3.7V |
| LP321445 | 160 mAh | 3.2 * 14 * 45 mm | 3.7V |
| LP322224 | 160 mAh | 3.2 * 22 * 24 mm | 3.7V |
| LP331440 | 160 mAh | 3.3 * 14 * 40 mm | 3.7V |
| LP352525 | 160 mAh | 3.5 * 25 * 25 mm | 3.7V |
| LP402024 | 160 mAh | 4 * 20 * 24 mm | 3.7V |
| LP402032 | 160 mAh | 4 * 20 * 32 mm | 3.7V |
| LP402322 | 160 mAh | 4 * 23 * 22 mm | 3.7V |
| LP412033 | 160 mAh | 4.1 * 20 * 33 mm | 3.7V |
| LP451528 | 160 mAh | 4.5 * 15 * 28 mm | 3.7V |
| LP451628 | 160 mAh | 4.5 * 16 * 28 mm | 3.7V |
| LP451827 | 160 mAh | 4.5 * 18 * 27 mm | 3.7V |
| LP491729 | 160 mAh | 4.9 * 17 * 29 mm | 3.7V |
| LP501038 | 160 mAh | 5 * 10 * 38 mm | 3.7V |
| LP501136 | 160 mAh | 5 * 11 * 36 mm | 3.7V |
| LP501235 | 160 mAh | 5 * 12 * 35 mm | 3.7V |
| LP520938 | 160 mAh | 5.2 * 9 * 38 mm | 3.7V |
| LP521330 | 160 mAh | 5.2 * 13 * 30 mm | 3.7V |
| LP701125 | 160 mAh | 7 * 11 * 25 mm | 3.7V |
| LP701225 | 160 mAh | 7 * 12 * 25 mm | 3.7V |
| LP701420 | 160 mAh | 7 * 14 * 20 mm | 3.7V |
| LP701522 | 160 mAh | 7 * 15 * 22 mm | 3.7V |
| LP801517 | 160 mAh | 8 * 15 * 17 mm | 3.7V |
| LP801620 | 160 mAh | 8 * 16 * 20 mm | 3.7V |
| LP561235 | 165 mAh | 5.6 * 12 * 35 mm | 3.7V |
| LP301738 | 170 mAh | 3 * 17 * 38 mm | 3.7V |
| LP302235 | 170 mAh | 3 * 22 * 35 mm | 3.7V |
| LP351448 | 170 mAh | 3.5 * 14 * 48 mm | 3.7V |
| LP351735 | 170 mAh | 3.5 * 17 * 35 mm | 3.7V |
| LP401537 | 170 mAh | 4 * 15 * 37 mm | 3.7V |
| LP401730 | 170 mAh | 4 * 17 * 30 mm | 3.7V |
| LP521725 | 170 mAh | 5.2 * 17 * 25 mm | 3.7V |
| LP541823 | 170 mAh | 5.4 * 18 * 23 mm | 3.7V |
| LP581230 | 170 mAh | 5.8 * 12 * 30 mm | 3.7V |
| LP581620 | 170 mAh | 5.8 * 16 * 20 mm | 3.7V |
| LP621230 | 170 mAh | 6.2 * 12 * 30 mm | 3.7V |
| LP651622 | 170 mAh | 6.5 * 16 * 22 mm | 3.7V |
| LP721819 | 170 mAh | 7.2 * 18 * 19 mm | 3.7V |
| LP322826 | 175 mAh | 3.2 * 28 * 26 mm | 3.7V |
| LP352522 | 175 mAh | 3.5 * 25 * 22 mm | 3.7V |
| LP401248 | 175 mAh | 4 * 12 * 48 mm | 3.7V |
| LP401432 | 175 mAh | 4 * 14 * 32 mm | 3.7V |
| LP421730 | 175 mAh | 4.2 * 17 * 30 mm | 3.7V |
| LP501528 | 175 mAh | 5 * 15 * 28 mm | 3.7V |
| LP531430 | 175 mAh | 5.3 * 14 * 30 mm | 3.7V |
| LP262535 | 180 mAh | 2.6 * 25 * 35 mm | 3.7V |
| LP301360 | 180 mAh | 3 * 13 * 60 mm | 3.7V |
| LP301847 | 180 mAh | 3 * 18 * 47 mm | 3.7V |
| LP302430 | 180 mAh | 3 * 24 * 30 mm | 3.7V |
| LP302528 | 180 mAh | 3 * 25 * 28 mm | 3.7V |
| LP302529 | 180 mAh | 3 * 25 * 29 mm | 3.7V |
| LP302530 | 180 mAh | 3 * 25 * 30 mm | 3.7V |
| LP302628 | 180 mAh | 3 * 26 * 28 mm | 3.7V |
| LP332030 | 180 mAh | 3.3 * 20 * 30 mm | 3.7V |
| LP332224 | 180 mAh | 3.3 * 22 * 24 mm | 3.7V |
| LP332430 | 180 mAh | 3.3 * 24 * 30 mm | 3.7V |
| LP351438 | 180 mAh | 3.5 * 14 * 38 mm | 3.7V |
| LP351738 | 180 mAh | 3.5 * 17 * 38 mm | 3.7V |
| LP351740 | 180 mAh | 3.5 * 17 * 40 mm | 3.7V |
| LP360946 | 180 mAh | 3.6 * 9 * 46 mm | 3.7V |
| LP362033 | 180 mAh | 3.6 * 20 * 33 mm | 3.7V |
| LP371538 | 180 mAh | 3.7 * 15 * 38 mm | 3.7V |
| LP382225 | 180 mAh | 3.8 * 22 * 25 mm | 3.7V |
| LP391625 | 180 mAh | 3.9 * 16 * 25 mm | 3.7V |
| LP392121 | 180 mAh | 3.9 * 21 * 21 mm | 3.7V |
| LP402028 | 180 mAh | 4 * 20 * 28 mm | 3.7V |
| LP450947 | 180 mAh | 4.5 * 9 * 47 mm | 3.7V |
| LP451632 | 180 mAh | 4.5 * 16 * 32 mm | 3.7V |
| LP461435 | 180 mAh | 4.6 * 14 * 35 mm | 3.7V |
| LP461730 | 180 mAh | 4.6 * 17 * 30 mm | 3.7V |
| LP472025 | 180 mAh | 4.7 * 20 * 25 mm | 3.7V |
| LP481140 | 180 mAh | 4.8 * 11 * 40 mm | 3.7V |
| LP500950 | 180 mAh | 5 * 9 * 50 mm | 3.7V |
| LP501140 | 180 mAh | 5 * 11 * 40 mm | 3.7V |
| LP501430 | 180 mAh | 5 * 14 * 30 mm | 3.7V |
| LP502821 | 180 mAh | 5 * 28 * 21 mm | 3.7V |
| LP511140 | 180 mAh | 5.1 * 11 * 40 mm | 3.7V |
| LP521430 | 180 mAh | 5.2 * 14 * 30 mm | 3.7V |
| LP541235 | 180 mAh | 5.4 * 12 * 35 mm | 3.7V |
| LP551233 | 180 mAh | 5.5 * 12 * 33 mm | 3.7V |
| LP551235 | 180 mAh | 5.5 * 12 * 35 mm | 3.7V |
| LP571235 | 180 mAh | 5.7 * 12 * 35 mm | 3.7V |
| LP581625 | 180 mAh | 5.8 * 16 * 25 mm | 3.7V |
| LP601230 | 180 mAh | 6 * 12 * 30 mm | 3.7V |
| LP601525 | 180 mAh | 6 * 15 * 25 mm | 3.7V |
| LP601528 | 180 mAh | 6 * 15 * 28 mm | 3.7V |
| LP601722 | 180 mAh | 6 * 17 * 22 mm | 3.7V |
| LP611724 | 180 mAh | 6.1 * 17 * 24 mm | 3.7V |
| LP701218 | 180 mAh | 7 * 12 * 18 mm | 3.7V |
| LP701820 | 180 mAh | 7 * 18 * 20 mm | 3.7V |
| LP781419 | 180 mAh | 7.8 * 14 * 19 mm | 3.7V |
| LP801520 | 180 mAh | 8 * 15 * 20 mm | 3.7V |
| LP851520 | 180 mAh | 8.5 * 15 * 20 mm | 3.7V |
| LP651818 | 185 mAh | 6.5 * 18 * 18 mm | 3.7V |
| LP302426 | 190 mAh | 3 * 24 * 26 mm | 3.7V |
| LP302428 | 190 mAh | 3 * 24 * 28 mm | 3.7V |
| LP312326 | 190 mAh | 3.1 * 23 * 26 mm | 3.7V |
| LP382525 | 190 mAh | 3.8 * 25 * 25 mm | 3.7V |
| LP401540 | 190 mAh | 4 * 15 * 40 mm | 3.7V |
| LP402127 | 190 mAh | 4 * 21 * 27 mm | 3.7V |
| LP501145 | 190 mAh | 5 * 11 * 45 mm | 3.7V |
| LP501923 | 190 mAh | 5 * 19 * 23 mm | 3.7V |
| LP502024 | 190 mAh | 5 * 20 * 24 mm | 3.7V |
| LP571230 | 190 mAh | 5.7 * 12 * 30 mm | 3.7V |
| LP602020 | 190 mAh | 6 * 20 * 20 mm | 3.7V |
| LP622020 | 190 mAh | 6.2 * 20 * 20 mm | 3.7V |
| LP652020 | 190 mAh | 6.5 * 20 * 20 mm | 3.7V |
| LP481730 | 195 mAh | 4.8 * 17 * 30 mm | 3.7V |

The other lipo battery applications
Rebar Detecter | Protable Hardness Tester | Flaw Detector | Moisture Instrument in Concrete | Bike Wireless Computer | Mobile Sensors | Wris-wom Swimming Wearaable | Facial Motion Capture | Fully Automated Pull-Off Tester | Navigation Device on Social Bicycles | Miro Jeweiry Box | Ultrasonic Imaging | Personal Shaving Cup | Smart Medivine Bottle | Smart Walkie-Talkies | Smart Sleep Glasses | Smart Assistant Watch | Mobile Projector | Fingerprint Padlock | Wireless Speaker System | Thinnest Foldable Bluetooth Mouse | Vehicle Monitoring Device | Car Gadget | Boogie Dice | Health Tracking Headband | Smart LED Light | Smart Bra | Handbag Light | Bike Safety Light | Hand Held and Esthetically Lamp | Power Dock | Fidget Controller Gadget | Camera Slider Track Dolly | Wireless Smart Speaker | Asthma Inhaler | Stimulus Generators | Smart Video Door Bell | Wireless Mobile Video Solution | Wireless Device | Lab Automation | Emergency Mobile | Wireless Installation | Fiber Optic Tester | Geolocation Gadgets | Hand Held Instrument Biometric Device | Portable PIC Programmer | Nike Sport Watch | Vehicle Traveling Data Recorder | Linx Impact Assessment System and Blast Gauge System | Wireless Installation AHRS | Digital Wi-Fi Microscopes | Electrocardiograph | RF Analyser | Active 3D Shutter Glasses | Oxygen Monitor | Polysomnography (PSG) | Sleep Apnea Screening | Long Term Blood Pressure Measurement | Smallest long-term EEG recorder | Technical Data Screen | Vehicle Gauging | Watch Recorder | Smart Touchless Faucet Adapter