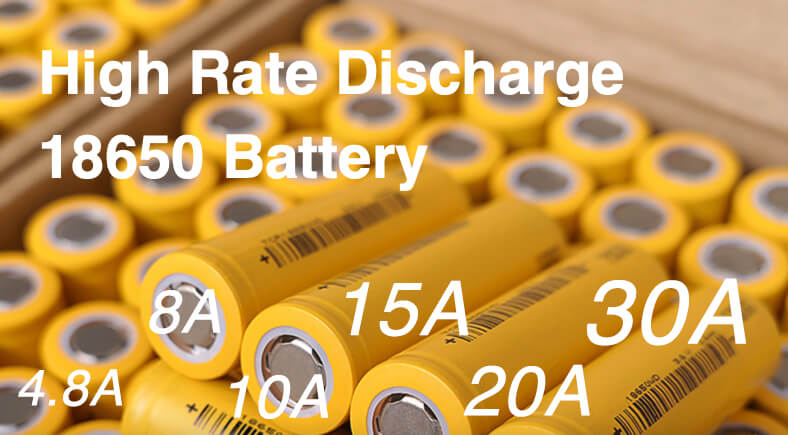 18650 High Amp Battery

At the end of 2020, we publish our new 18650 high amp battery series. They have a much higher energy density and higher discharge current than standard 18650 batteries. More and more customers want 18650 battery with higher capacity and high amp for their new designs and applications, such as E-cigarette, power tools, flashlight, medical device, hoverboard, self-balancing scooter, segway, moped, power bank, solar battery, electric motorcycle.
High Safety Standard of 18650 High Amp Battery
All of our 18650 high amp batteries are made under high safety standard of CE, CB, UL, IEC62133, UN38.3, FCC, KC.
Long Cycle Life of 18650 High Amp Battery
The capacity of the 18650 high amp batteries is higher than 80% after 500 cycles. The total battery life is 1000+.
Higher Drain of 18650 Batteries
The new 18650 high amp battery series have a much higher discharge current rate of 5A, 10A, 20A & 30A.
Higher Capacity of 18650 batteries
We improve our technology and select the best materials for the cathode to increase the density.
Protection Circuit
We design different protection circuits with Seiko IC, MOS, NTC & PTC for a single 18650 high amp battery and 18650 battery pack.
Custom Wire
It's available to add the custom length & diameter of wires to the 18650 high amp battery.
Connector
The most popular connectors from JST, Molex & Hirose are also possible for connecting the 18650 battery to your applications with ease.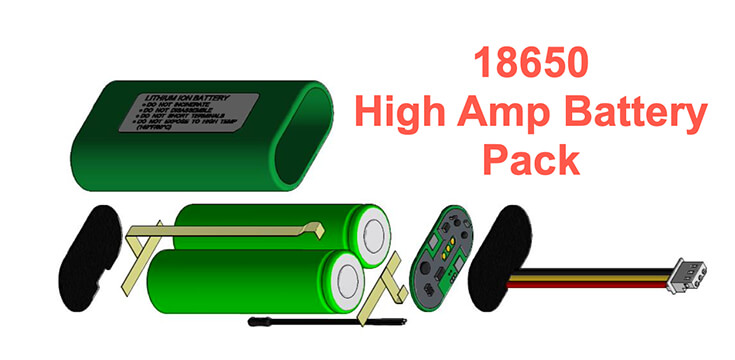 18650 High Amp Battery List
| | | | | | |
| --- | --- | --- | --- | --- | --- |
| | | | | | |
| LPH18650-1318A | 1300mAh | 18A | 3.60V | 25mΩ | 43g |
| LPH18650-1515A | 1500mAh | 15A | 3.60V | 30mΩ | 45g |
| LPH18650-1518A | 1500mAh | 18A | 3.60V | 25mΩ | 45g |
| LPH18650-1530A | 1500mAh | 30A | 3.65V | 20mΩ | 47g |
| LPH18650-2025A | 2000mAh | 25A | 3.65V | 20mΩ | 48g |
| LPH18650-2120A | 2100mAh | 20A | 3.65V | 20mΩ | 48g |
| LPH18650-2130A | 2100mAh | 30A | 3.60V | 15mΩ | 45g |
| LPH18650-2110A | 2100mAh | 10A | 3.60V | 32mΩ | 44g |
| LPH18650-2143A | 2150mAh | 4.3A | 3.60V | 100mΩ | 44g |
| LPH18650-2210A | 2200mAh | 10A | 3.62V | 35mΩ | 44g |
| LPH18650-2244A | 2200mAh | 4.4A | 3.60V | 100mΩ | 44g |
| LPH18650-2280A | 2200mAh | 8A | 3.60V | 100mΩ | 46g |
| LPH18650-2250A | 2250mAh | 5A | 3.60V | 100mΩ | 42g |
| LPH18650-2520A | 2500mAh | 20A | 3.60V | 18mΩ | 45g |
| LPH18650-2550A | 2500mAh | 5.0A | 3.70V | 100mΩ | 41g |
| LPH18650-2652A | 2600mAh | 5.2A | 3.70V | 100mΩ | 45g |
| LPH18650-2650A | 2600mAh | 5A | 3.60V | 70mΩ | 48g |
| LPH18650-2610A | 2600mAh | 10A | 3.60V | 60mΩ | 44g |
| LPH18650-2856A | 2800mAh | 5.6A | 3.75V | 100mΩ | 48g |
| LPH18650-2880A | 2850mAh | 8A | 3.65V | 45mΩ | 45g |
| LPH18650-2910A | 2900mAh | 10A | 3.62V | 35mΩ | 46g |
| LPH18650-2915A | 2950mAh | 15A | 3.60V | 26mΩ | 48g |
| LPH18650-2959A | 2950mAh | 5.9A | 3.78V | 70mΩ | 48g |
| LPH18650-3044A | 3000mAh | 4.4A | 3.64V | 70mΩ | 49g |
| LPH18650-3020A | 3000mAh | 20A | 3.60V | 20mΩ | 44g |
| LPH18650-3030A | 3000mAh | 30A | 3.60V | 18mΩ | 47g |
| LPH18650-3058A | 3000mAh | 5.8A | 3.70V | 100mΩ | 49g |
| LPH18650-3264A | 3200mAh | 6.4A | 3.75V | 100mΩ | 50g |
| LPH18650-3232A | 3200mAh | 32A | 3.65V | 35mΩ | 50g |
| LPH18650-3246A | 3200mAh | 4.6A | 3.75V | 70mΩ | 49g |
| LPH18650-3210A | 3200mAh | 10A | 3.70V | 35mΩ | 49g |
| LPH18650-3236A | 3200mAh | 3.6A | 3.60V | 40mΩ | 48g |
| LPH18650-3348A | 3350mAh | 4.8A | 3.75V | 70mΩ | 49g |
| LPH18650-3448A | 3400mAh | 4.8A | 3.60V | 100mΩ | 48g |
| LPH18650-3520A | 3500mAh | 20A | 3.60V | 35mΩ | 50g |
| LPH18650-3510A | 3500mAh | 10A | 3.63V | 40mΩ | 49g |