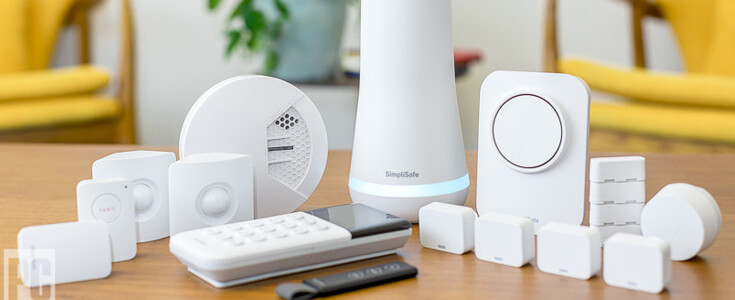 Lithium Battery LP601927 270mAh for Home Security System

Our lithium battery LP601927 270mAh is used for the more and more home security system together by WiFi and Smart Home with the most intelligent and good price. The home security system is built-in multiple signals such as WiFi, GPS, and cellular from your mobile phones to intelligent arm and disarms your home at nights or at outside. Joining home security, internet security, Wi-Fi and smart home hub into one single system.

Home Security System

1. 24/7 Professional Monitoring
2. Nonstop Self Monitoring
3. Automatic Arming/Disarming
4. Lithium Battery and 4G Backup
5. 360° HD Camera Integration
6. Timely Notifications
7. Arm based on Zones
8. iOS iPhone and Android Apps
9. Built-In 105 dB Siren
10. Up to 100 Sensors

Mesh WiFi

1. Expandable Mesh WiFi System
2. Parental Control
3. Router/Extender/AP Modes
4. Block Devices
5. Manage Connected Devices
6. Wi-Fi Triggers

Robust Home Security

You can monitor the doors, windows and the other movement by the home security system for checking the water and smoke. You can also build your own security system from 100+ of sensors. The formation can be sent to a UL certified, professional monitoring station which can call emergency response. It's very easy to connect the sensors around your yard.

When you miss arming your home, it detects no one's phone on the WiFi and arms it for you automatically. When you back home, the detects your phone and also disarms the system. The built-in lithium battery (IEC62133-2-2017 Certified) can support the home security system working more than 10 hours in case of a power outage. Joining with 4G cellular backup, your home is never compromised. The home security system can improve the WiFi dead zones and extend the WiFi coverage to all around your yard. The camera is recording any movement, even your baby.
Lithium Battery LP601927 Details
| | |
| --- | --- |
| Battery Type | |
| Part Number | LP601927 |
| Voltage @ Capacity | 3.7V @ 270mAh |
| Comfiguration | 1S1P |
| Wires | UL1571 30AWG 20mm*2 |
| | JST ACHR-02V-S |
| Cut-off Voltage | 2.75V |
| Thermistor (NTC) | NO |
| Dimension | 27 x 19 x 6,0mm |
| Charge Temperature | 0°C to +45°C |
| Discharge Temperature | -20°C to +60°C |
| Storage Temperature | -20°C to +45°C |
Lithium Batteries 200mAh+



| | | | |
| --- | --- | --- | --- |
| part number | capacity | Dimension (mm) | Voltage |
| LP101525 | 280mAh | 25 x 15 x 10 | 3.7V |
| LP193555 | 210mAh | 55 x 35 x 19 | 3.7V |
| LP232084 | 250mAh | 84 x 20 x 2.3 | 3.7V |
| LP233035 | 200mAh | 35 x 30 x 2.3 | 3.7V |
| LP241764 | 200mAh | 64 x 17 x 2.4 | 3.7V |
| LP272247 | 260mAh | 47 x 22 x 2.7 | 3.7V |
| LP273034 | 240mAh | 34 x 30 x 2.7 | 3.7V |
| LP273048 | 280mAh | 48 x 30 x 2.7 | 3.7V |
| LP302045 | 220mAh | 45 x 20 x 3 | 3.7V |
| LP302053 | 280mAh | 53 x 20 x 3 | 3.7V |
| LP302060 | 240mAh | 60 x 20 x 3 | 3.7V |
| LP302247 | 260mAh | 47 x 22 x 3 | 3.7V |
| LP302535 | 200mAh | 35 x 25 x 3 | 3.7V |
| LP302535 | 210mAh | 35 x 25 x 3 | 3.7V |
| LP302535 | 220mAh | 35 x 25 x 3 | 3.7V |
| LP302540 | 260mAh | 40 x 25 x 3 | 3.7V |
| LP302934 | 280mAh | 34 x 29 x 3 | 3.7V |
| LP303030 | 210mAh | 30 x 30 x 3 | 3.7V |
| LP303032 | 250mAh | 32 x 30 x 3 | 3.7V |
| LP303035 | 260mAh | 35 x 30 x 3 | 3.7V |
| LP303424 | 220mAh | 24 x 34 x 3 | 3.7V |
| LP312239 | 230mAh | 39 x 22 x 3.1 | 3.7V |
| LP322238 | 220mAh | 38 x 22 x 3.2 | 3.7V |
| LP322238 | 230mAh | 38 x 22 x 3.2 | 3.7V |
| LP322438 | 250mAh | 38 x 24 x 3.2 | 3.7V |
| LP322730 | 240mAh | 30 x 27 x 3.2 | 3.7V |
| LP332141 | 270mAh | 41 x 21 x 3.3 | 3.7V |
| LP332238 | 220mAh | 38 x 22 x 3.3 | 3.7V |
| LP332730 | 220mAh | 30 x 27 x 3.3 | 3.7V |
| LP341752 | 275mAh | 52 x 17 x 3.4 | 3.7V |
| LP342430 | 200mAh | 30 x 24 x 3.4 | 3.7V |
| LP342530 | 200mAh | 30 x 25 x 3.4 | 3.7V |
| LP351445 | 200mAh | 45 x 14 x 3.5 | 3.7V |
| LP351455 | 200mAh | 55 x 14 x 3.5 | 3.7V |
| LP351752 | 275mAh | 52 x 17 x 3.5 | 3.7V |
| LP352535 | 270mAh | 35 x 25 x 3.5 | 3.7V |
| LP352730 | 230mAh | 30 x 27 x 3.5 | 3.7V |
| LP352828 | 240mAh | 28 x 28 x 3.5 | 3.7V |
| LP352828 | 290mAh | 28 x 28 x 3.5 | 3.7V |
| LP352830 | 270mAh | 30 x 28 x 3.5 | 3.7V |
| LP362133 | 230mAh | 33 x 21 x 3.6 | 3.7V |
| LP362227 | 240mAh | 27 x 22 x 3.6 | 3.7V |
| LP372527 | 250mAh | 27 x 25 x 3.7 | 3.7V |
| LP372727 | 280mAh | 27 x 27 x 3.7 | 3.7V |
| LP373030 | 260mAh | 30 x 30 x 3.7 | 3.7V |
| LP382530 | 230mAh | 30 x 25 x 3.8 | 3.7V |
| LP392240 | 290mAh | 40 x 22 x 3.9 | 3.7V |
| LP392530 | 250mAh | 30 x 25 x 3.9 | 3.7V |
| LP392826 | 260mAh | 26 x 28 x 3.9 | 3.7V |
| LP402030 | 200mAh | 30 x 20 x 4 | 3.7V |
| LP402030 | 230mAh | 30 x 20 x 4 | 3.7V |
| LP402033 | 220mAh | 33 x 20 x 4 | 3.7V |
| LP402035 | 220mAh | 35 x 20 x 4 | 3.7V |
| LP402035 | 230mAh | 35 x 20 x 4 | 3.7V |
| LP402040 | 280mAh | 40 x 20 x 4 | 3.7V |
| LP402530 | 240mAh | 30 x 25 x 4 | 3.7V |
| LP402530 | 250mAh | 30 x 25 x 4 | 3.7V |
| LP411166 | 230mAh | 66 x 11 x 4.1 | 3.7V |
| LP421635 | 200mAh | 35 x 16 x 4.2 | 3.7V |
| LP421645 | 250mAh | 45 x 16 x 4.2 | 3.7V |
| LP422030 | 200mAh | 30 x 20 x 4.2 | 3.7V |
| LP422035 | 240mAh | 35 x 20 x 4.2 | 3.7V |
| LP422222 | 200mAh | 22 x 22 x 4.2 | 3.7V |
| LP422228 | 220mAh | 28 x 22 x 4.2 | 3.7V |
| LP422525 | 200mAh | 25 x 25 x 4.2 | 3.7V |
| LP431642 | 250mAh | 42 x 16 x 4.3 | 3.7V |
| LP442030 | 220mAh | 30 x 20 x 4.4 | 3.7V |
| LP451152 | 230mAh | 52 x 11 x 4.5 | 3.7V |
| LP452030 | 220mAh | 30 x 20 x 4.5 | 3.7V |
| LP452225 | 220mAh | 25 x 22 x 4.5 | 3.7V |
| LP452526 | 230mAh | 26 x 25 x 4.5 | 3.7V |
| LP452526 | 260mAh | 26 x 25 x 4.5 | 3.7V |
| LP456484 | 240mAh | 84 x 64 x 4.5 | 3.7V |
| LP461535 | 230mAh | 35 x 15 x 4.6 | 3.7V |
| LP471163 | 250mAh | 63 x 11 x 4.7 | 3.7V |
| LP471342 | 220mAh | 42 x 13 x 4.7 | 3.7V |
| LP471736 | 260mAh | 36 x 17 x 4.7 | 3.7V |
| LP472328 | 250mAh | 28 x 23 x 4.7 | 3.7V |
| LP481538 | 240mAh | 38 x 15 x 4.8 | 3.7V |
| LP482037 | 240mAh | 37 x 20 x 4.8 | 3.7V |
| LP482826 | 290mAh | 26 x 28 x 4.8 | 3.7V |
| LP492327 | 210mAh | 27 x 23 x 4.9 | 3.7V |
| LP492327 | 280mAh | 27 x 23 x 4.9 | 3.7V |
| LP501235 | 200mAh | 35 x 12 x 5 | 3.7V |
| LP501240 | 200mAh | 40 x 12 x 5 | 3.7V |
| LP501250 | 240mAh | 50 x 12 x 5 | 3.7V |
| LP501335 | 210mAh | 35 x 13 x 5 | 3.7V |
| LP501345 | 250mAh | 45 x 13 x 5 | 3.7V |
| LP501435 | 200mAh | 35 x 14 x 5 | 3.7V |
| LP501530 | 200mAh | 30 x 15 x 5 | 3.7V |
| LP501537 | 230mAh | 37 x 15 x 5 | 3.7V |
| LP501630 | 200mAh | 30 x 16 x 5 | 3.7V |
| LP501641 | 290mAh | 41 x 16 x 5 | 3.7V |
| LP501743 | 290mAh | 43 x 17 x 5 | 3.7V |
| LP501830 | 210mAh | 30 x 18 x 5 | 3.7V |
| LP501927 | 210mAh | 27 x 19 x 5 | 3.7V |
| LP502025 | 200mAh | 25 x 20 x 5 | 3.7V |
| LP502027 | 260mAh | 27 x 20 x 5 | 3.7V |
| LP502030 | 230mAh | 30 x 20 x 5 | 3.7V |
| LP502030 | 250mAh | 30 x 20 x 5 | 3.7V |
| LP502030 | 260mAh | 30 x 20 x 5 | 3.7V |
| LP502525 | 270mAh | 25 x 25 x 5 | 3.7V |
| LP502826 | 290mAh | 26 x 28 x 5 | 3.7V |
| LP512028 | 230mAh | 28 x 20 x 5.1 | 3.7V |
| LP512030 | 240mAh | 30 x 20 x 5.1 | 3.7V |
| LP512323 | 230mAh | 23 x 23 x 5.1 | 3.7V |
| LP531732 | 250mAh | 32 x 17 x 5.3 | 3.7V |
| LP532025 | 200mAh | 25 x 20 x 5.3 | 3.7V |
| LP541240 | 205mAh | 40 x 12 x 5.4 | 3.7V |
| LP551243 | 270mAh | 43 x 12 x 5.5 | 3.7V |
| LP551245 | 260mAh | 45 x 12 x 5.5 | 3.7V |
| LP551530 | 200mAh | 30 x 15 x 5.5 | 3.7V |
| LP551730 | 220mAh | 30 x 17 x 5.5 | 3.7V |
| LP551732 | 250mAh | 32 x 17 x 5.5 | 3.7V |
| LP551927 | 230mAh | 27 x 19 x 5.5 | 3.7V |
| LP552025 | 230mAh | 25 x 20 x 5.5 | 3.7V |
| LP552030 | 290mAh | 30 x 20 x 5.5 | 3.7V |
| LP561630 | 200mAh | 30 x 16 x 5.6 | 3.7V |
| LP581534 | 220mAh | 34 x 15 x 5.8 | 3.7V |
| LP581730 | 240mAh | 30 x 17 x 5.8 | 3.7V |
| LP601233 | 200mAh | 33 x 12 x 6 | 3.7V |
| LP601236 | 200mAh | 36 x 12 x 6 | 3.7V |
| LP601430 | 200mAh | 30 x 14 x 6 | 3.7V |
| LP601436 | 260mAh | 36 x 14 x 6 | 3.7V |
| LP601537 | 280mAh | 37 x 15 x 6 | 3.7V |
| LP601726 | 220mAh | 26 x 17 x 6 | 3.7V |
| LP601730 | 270mAh | 30 x 17 x 6 | 3.7V |
| LP601927 | 250mAh | 27 x 19 x 6 | 3.7V |
| LP601927 | 270mAh | 27 x 19 x 6 | 3.7V |
| LP602025 | 220mAh | 25 x 20 x 6 | 3.7V |
| LP602025 | 270mAh | 25 x 20 x 6 | 3.7V |
| LP602030 | 290mAh | 30 x 20 x 6 | 3.7V |
| LP602323 | 250mAh | 23 x 23 x 6 | 3.7V |
| LP622025 | 240mAh | 25 x 20 x 6.2 | 3.7V |
| LP631646 | 290mAh | 46 x 16 x 6.3 | 3.7V |
| LP641730 | 280mAh | 30 x 17 x 6.4 | 3.7V |
| LP651430 | 220mAh | 30 x 14 x 6.5 | 3.7V |
| LP651523 | 200mAh | 23 x 15 x 6.5 | 3.7V |
| LP651530 | 280mAh | 30 x 15 x 6.5 | 3.7V |
| LP651826 | 200mAh | 26 x 18 x 6.5 | 3.7V |
| LP652021 | 240mAh | 21 x 20 x 6.5 | 3.7V |
| LP652030 | 280mAh | 30 x 20 x 6.5 | 3.7V |
| LP652123 | 200mAh | 23 x 21 x 6.5 | 3.7V |
| LP652525 | 280mAh | 25 x 25 x 6.5 | 3.7V |
| LP682525 | 280mAh | 25 x 25 x 6.8 | 3.7V |
| LP701235 | 240mAh | 35 x 12 x 7 | 3.7V |
| LP701235 | 250mAh | 35 x 12 x 7 | 3.7V |
| LP701425 | 200mAh | 25 x 14 x 7 | 3.7V |
| LP701430 | 210mAh | 30 x 14 x 7 | 3.7V |
| LP701525 | 200mAh | 25 x 15 x 7 | 3.7V |
| LP701530 | 270mAh | 30 x 15 x 7 | 3.7V |
| LP701723 | 250mAh | 23 x 17 x 7 | 3.7V |
| LP702020 | 200mAh | 20 x 20 x 7 | 3.7V |
| LP702020 | 230mAh | 20 x 20 x 7 | 3.7V |
| LP702025 | 280mAh | 25 x 20 x 7 | 3.7V |
| LP702120 | 200mAh | 20 x 21 x 7 | 3.7V |
| LP751524 | 220mAh | 24 x 15 x 7.5 | 3.7V |
| LP751525 | 220mAh | 25 x 15 x 7.5 | 3.7V |
| LP751530 | 260mAh | 30 x 15 x 7.5 | 3.7V |
| LP751626 | 240mAh | 26 x 16 x 7.5 | 3.7V |
| LP752025 | 250mAh | 25 x 20 x 7.5 | 3.7V |
| LP762022 | 260mAh | 22 x 20 x 7.6 | 3.7V |
| LP801522 | 200mAh | 22 x 15 x 8 | 3.7V |
| LP801621 | 200mAh | 21 x 16 x 8 | 3.7V |
| LP801823 | 200mAh | 23 x 18 x 8 | 3.7V |
| LP801920 | 210mAh | 20 x 19 x 8 | 3.7V |
| LP801921 | 240mAh | 21 x 19 x 8 | 3.7V |
| LP831723 | 230mAh | 23 x 17 x 8.3 | 3.7V |
| LP851721 | 220mAh | 21 x 17 x 8.5 | 3.7V |
| LP852022 | 290mAh | 22 x 20 x 8.5 | 3.7V |
| LP901720 | 220mAh | 20 x 17 x 9 | 3.7V |

The other lipo battery applications
Rebar Detecter | Protable Hardness Tester | Flaw Detector | Moisture Instrument in Concrete | Bike Wireless Computer | Mobile Sensors | Wris-wom Swimming Wearaable | Facial Motion Capture | Fully Automated Pull-Off Tester | Navigation Device on Social Bicycles | Miro Jeweiry Box | Ultrasonic Imaging | Personal Shaving Cup | Smart Medivine Bottle | Smart Walkie-Talkies | Smart Sleep Glasses | Smart Assistant Watch | Mobile Projector | Fingerprint Padlock | Wireless Speaker System | Thinnest Foldable Bluetooth Mouse | Vehicle Monitoring Device | Car Gadget | Boogie Dice | Health Tracking Headband | Smart LED Light | Smart Bra | Handbag Light | Bike Safety Light | Hand Held and Esthetically Lamp | Power Dock | Fidget Controller Gadget | Camera Slider Track Dolly | Wireless Smart Speaker | Asthma Inhaler | Stimulus Generators | Smart Video Door Bell | Wireless Mobile Video Solution | Wireless Device | Lab Automation | Emergency Mobile | Wireless Installation | Fiber Optic Tester | Geolocation Gadgets | Hand Held Instrument Biometric Device | Portable PIC Programmer | Nike Sport Watch | Vehicle Traveling Data Recorder | Linx Impact Assessment System and Blast Gauge System | Wireless Installation AHRS | Digital Wi-Fi Microscopes | Electrocardiograph | RF Analyser | Active 3D Shutter Glasses | Oxygen Monitor | Polysomnography (PSG) | Sleep Apnea Screening | Long Term Blood Pressure Measurement | Smallest long-term EEG recorder | Technical Data Screen | Vehicle Gauging | Watch Recorder | Smart Touchless Faucet Adapter