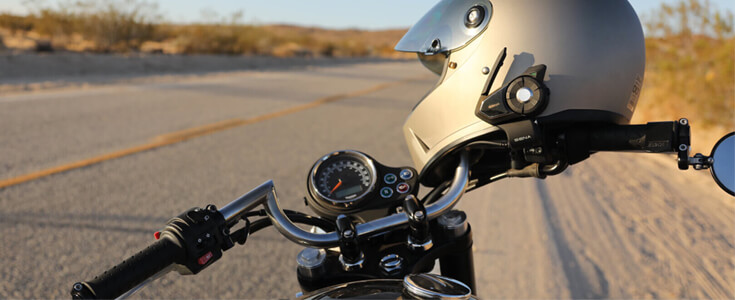 LiPo Battery LP432543 3.7V 400mAh for Bluetooth Headset Universal Mic

The latest Bluetooth headset universal mic v3.0 with lipo battery LP432543 400mAh and the advanced digital processing technology, the Bluetooth stereo headset offers the best sound quality for both incoming and outgoing sound in its class. You can call hands-free on your Bluetooth mobile phone, listen to stereo music or voice instructions of GPS navigation by Bluetooth wirelessly, and have two-way intercom conversations in full duplex with a passenger or other motorcycle riders.

General Features
Allows pairing to another brand of Bluetooth headsets
Bluetooth Intercom up to 400 meters in open area
Bluetooth hands-free for Bluetooth mobile phones
LiPo Battery LP432543 400mAh. Up to 8 hours talk time, 7 days standby time
CE, FCC, TELEC, and IC Certified
Global Bluetooth solutions and innovations

Motorcycles

From Bluetooth integrated helmets, headsets, and cameras to remote controls, adapters, and accessories - we've got you covered.

Cycling

Add some innovation between Point A and Point B with 3.7V lipo battery. The modern mechanization of your ride starts here.

Outdoor

Bluetooth devices with lipo battery 400mAh. Keeping longer in touch while hiking, climbing, skydiving, boating or doing whatever gets you outside.

Industrial

As our Bluetooth stereo headsets and intercom systems with lipo battery LP432543, it improve both job-site efficiency and workplace safety.
LiPo Battery LP432543 3.7V 400mAh Details
| | |
| --- | --- |
| Battery Type | LiPo Battery |
| Part Number | LP432543 |
| Voltage @ Capacity | 3.7V @ 400mAh |
| Comfiguration | 1S1P |
| Wires | UL1571 AWG28 25m*2 |
| | JST SHR-02V-S-B |
| Cut-off Voltage | 2.75V |
| Thermistor (NTC) | NO |
| Dimension | 4.3 x 25 x 43mm |
| Charge Temperature | 0°C to +45°C |
| Discharge Temperature | -20°C to +60°C |
| Storage Temperature | -20°C to +45°C |
LiPo Battery 400mAh+



| | | | |
| --- | --- | --- | --- |
| modello | capacità | Dimensione (mm) | Voltaggio |
| LP101532 | 420mAh | 32 x 15 x 10 | 3.7V |
| LP102323 | 400mAh | 23 x 23 x 10 | 3.7V |
| LP111927 | 450mAh | 27 x 19 x 11 | 3.7V |
| LP131330 | 480mAh | 30 x 13 x 13 | 3.7V |
| LP253741 | 400mAh | 41 x 37 x 2.5 | 3.7V |
| LP253747 | 420mAh | 47 x 37 x 2.5 | 3.7V |
| LP302575 | 460mAh | 75 x 25 x 3 | 3.7V |
| LP303048 | 400mAh | 48 x 30 x 3 | 3.7V |
| LP303450 | 480mAh | 50 x 34 x 3 | 3.7V |
| LP303540 | 400mAh | 40 x 35 x 3 | 3.7V |
| LP303840 | 400mAh | 40 x 38 x 3 | 3.7V |
| LP304040 | 480mAh | 40 x 40 x 3 | 3.7V |
| LP313450 | 460mAh | 50 x 34 x 3.1 | 3.7V |
| LP323442 | 400mAh | 42 x 34 x 3.2 | 3.7V |
| LP352065 | 420mAh | 65 x 20 x 3.5 | 3.7V |
| LP352070 | 400mAh | 70 x 20 x 3.5 | 3.7V |
| LP352073 | 450mAh | 73 x 20 x 3.5 | 3.7V |
| LP352745 | 400mAh | 45 x 27 x 3.5 | 3.7V |
| LP352850 | 450mAh | 50 x 28 x 3.5 | 3.7V |
| LP353045 | 480mAh | 45 x 30 x 3.5 | 3.7V |
| LP353338 | 420mAh | 38 x 33 x 3.5 | 3.7V |
| LP373045 | 480mAh | 45 x 30 x 3.7 | 3.7V |
| LP382746 | 450mAh | 46 x 27 x 3.8 | 3.7V |
| LP382844 | 450mAh | 44 x 28 x 3.8 | 3.7V |
| LP392255 | 450mAh | 55 x 22 x 3.9 | 3.7V |
| LP401574 | 420mAh | 74 x 15 x 4 | 3.7V |
| LP401862 | 420mAh | 62 x 18 x 4 | 3.7V |
| LP402550 | 480mAh | 50 x 25 x 4 | 3.7V |
| LP403035 | 400mAh | 35 x 30 x 4 | 3.7V |
| LP403040 | 420mAh | 40 x 30 x 4 | 3.7V |
| LP403040 | 430mAh | 40 x 30 x 4 | 3.7V |
| LP403232 | 420mAh | 32 x 32 x 4 | 3.7V |
| LP403442 | 480mAh | 42 x 34 x 4 | 3.7V |
| LP423038 | 480mAh | 38 x 30 x 4.2 | 3.7V |
| LP423040 | 450mAh | 40 x 30 x 4.2 | 3.7V |
| LP433040 | 480mAh | 40 x 30 x 4.3 | 3.7V |
| LP442538 | 480mAh | 38 x 25 x 4.4 | 3.7V |
| LP443040 | 480mAh | 40 x 30 x 4.4 | 3.7V |
| LP452248 | 400mAh | 48 x 22 x 4.5 | 3.7V |
| LP452249 | 403mAh | 49 x 22 x 4.5 | 3.7V |
| LP452538 | 400mAh | 38 x 25 x 4.5 | 3.7V |
| LP452540 | 480mAh | 40 x 25 x 4.5 | 3.7V |
| LP472740 | 475mAh | 40 x 27 x 4.7 | 3.7V |
| LP482536 | 420mAh | 36 x 25 x 4.8 | 3.7V |
| LP483030 | 400mAh | 30 x 30 x 4.8 | 3.7V |
| LP492540 | 450mAh | 40 x 25 x 4.9 | 3.7V |
| LP492726 | 415mAh | 26 x 27 x 4.9 | 3.7V |
| LP492929 | 400mAh | 29 x 29 x 4.9 | 3.7V |
| LP493030 | 400mAh | 30 x 30 x 4.9 | 3.7V |
| LP501943 | 400mAh | 43 x 19 x 5 | 3.7V |
| LP502438 | 400mAh | 38 x 24 x 5 | 3.7V |
| LP502535 | 400mAh | 35 x 25 x 5 | 3.7V |
| LP502730 | 400mAh | 30 x 27 x 5 | 3.7V |
| LP502832 | 490mAh | 32 x 28 x 5 | 3.7V |
| LP502835 | 480mAh | 35 x 28 x 5 | 3.7V |
| LP502837 | 450mAh | 37 x 28 x 5 | 3.7V |
| LP503030 | 400mAh | 30 x 30 x 5 | 3.7V |
| LP503030 | 430mAh | 30 x 30 x 5 | 3.7V |
| LP503528 | 460mAh | 28 x 35 x 5 | 3.7V |
| LP511845 | 400mAh | 45 x 18 x 5.1 | 3.7V |
| LP532336 | 430mAh | 36 x 23 x 5.3 | 3.7V |
| LP542338 | 400mAh | 38 x 23 x 5.4 | 3.7V |
| LP542535 | 400mAh | 35 x 25 x 5.4 | 3.7V |
| LP542627 | 420mAh | 27 x 26 x 5.4 | 3.7V |
| LP542630 | 400mAh | 30 x 26 x 5.4 | 3.7V |
| LP551460 | 400mAh | 60 x 14 x 5.5 | 3.7V |
| LP552040 | 400mAh | 40 x 20 x 5.5 | 3.7V |
| LP552045 | 450mAh | 45 x 20 x 5.5 | 3.7V |
| LP552138 | 400mAh | 38 x 21 x 5.5 | 3.7V |
| LP552240 | 460mAh | 40 x 22 x 5.5 | 3.7V |
| LP552330 | 420mAh | 30 x 23 x 5.5 | 3.7V |
| LP552530 | 400mAh | 30 x 25 x 5.5 | 3.7V |
| LP552535 | 450mAh | 35 x 25 x 5.5 | 3.7V |
| LP552540 | 470mAh | 40 x 25 x 5.5 | 3.7V |
| LP562039 | 420mAh | 39 x 20 x 5.6 | 3.7V |
| LP562334 | 400mAh | 34 x 23 x 5.6 | 3.7V |
| LP562347 | 450mAh | 47 x 23 x 5.6 | 3.7V |
| LP562438 | 400mAh | 38 x 24 x 5.6 | 3.7V |
| LP562535 | 450mAh | 35 x 25 x 5.6 | 3.7V |
| LP582235 | 430mAh | 35 x 22 x 5.8 | 3.7V |
| LP582235 | 470mAh | 35 x 22 x 5.8 | 3.7V |
| LP582528 | 400mAh | 28 x 25 x 5.8 | 3.7V |
| LP582534 | 470mAh | 34 x 25 x 5.8 | 3.7V |
| LP592530 | 430mAh | 30 x 25 x 5.9 | 3.7V |
| LP592629 | 400mAh | 29 x 26 x 5.9 | 3.7V |
| LP592629 | 460mAh | 29 x 26 x 5.9 | 3.7V |
| LP601263 | 400mAh | 63 x 12 x 6 | 3.7V |
| LP601351 | 400mAh | 51 x 13 x 6 | 3.7V |
| LP601550 | 420mAh | 50 x 15 x 6 | 3.7V |
| LP601646 | 400mAh | 46 x 16 x 6 | 3.7V |
| LP601842 | 420mAh | 42 x 18 x 6 | 3.7V |
| LP601843 | 430mAh | 43 x 18 x 6 | 3.7V |
| LP602035 | 400mAh | 35 x 20 x 6 | 3.7V |
| LP602040 | 450mAh | 40 x 20 x 6 | 3.7V |
| LP602040 | 450mAh | 40 x 20 x 6 | 3.7V |
| LP602045 | 450mAh | 45 x 20 x 6 | 3.7V |
| LP602136 | 420mAh | 36 x 21 x 6 | 3.7V |
| LP602428 | 400mAh | 28 x 24 x 6 | 3.7V |
| LP602528 | 400mAh | 28 x 25 x 6 | 3.7V |
| LP602530 | 400mAh | 30 x 25 x 6 | 3.7V |
| LP602530 | 450mAh | 30 x 25 x 6 | 3.7V |
| LP602533 | 450mAh | 33 x 25 x 6 | 3.7V |
| LP602625 | 435mAh | 25 x 26 x 6 | 3.7V |
| LP602828 | 420mAh | 28 x 28 x 6 | 3.7V |
| LP603030 | 460mAh | 30 x 30 x 6 | 3.7V |
| LP622327 | 405mAh | 27 x 23 x 6.2 | 3.7V |
| LP622530 | 400mAh | 30 x 25 x 6.2 | 3.7V |
| LP631745 | 450mAh | 45 x 17 x 6.3 | 3.7V |
| LP632039 | 400mAh | 39 x 20 x 6.3 | 3.7V |
| LP632730 | 450mAh | 30 x 27 x 6.3 | 3.7V |
| LP642235 | 450mAh | 35 x 22 x 6.4 | 3.7V |
| LP652035 | 430mAh | 35 x 20 x 6.5 | 3.7V |
| LP652334 | 490mAh | 34 x 23 x 6.5 | 3.7V |
| LP652530 | 450mAh | 30 x 25 x 6.5 | 3.7V |
| LP652530 | 450mAh | 30 x 25 x 6.5 | 3.7V |
| LP652631 | 480mAh | 31 x 26 x 6.5 | 3.7V |
| LP662631 | 490mAh | 31 x 26 x 6.6 | 3.7V |
| LP681646 | 470mAh | 46 x 16 x 6.8 | 3.7V |
| LP701640 | 400mAh | 40 x 16 x 7 | 3.7V |
| LP701640 | 420mAh | 40 x 16 x 7 | 3.7V |
| LP701740 | 460mAh | 40 x 17 x 7 | 3.7V |
| LP702035 | 450mAh | 35 x 20 x 7 | 3.7V |
| LP702035 | 460mAh | 35 x 20 x 7 | 3.7V |
| LP702035 | 480mAh | 35 x 20 x 7 | 3.7V |
| LP702035 | 480mAh | 35 x 20 x 7 | 3.7V |
| LP702626 | 420mAh | 26 x 26 x 7 | 3.7V |
| LP722530 | 450mAh | 30 x 25 x 7.2 | 3.7V |
| LP722728 | 450mAh | 28 x 27 x 7.2 | 3.7V |
| LP732035 | 450mAh | 35 x 20 x 7.3 | 3.7V |
| LP751738 | 450mAh | 38 x 17 x 7.5 | 3.7V |
| LP752030 | 400mAh | 30 x 20 x 7.5 | 3.7V |
| LP752327 | 420mAh | 27 x 23 x 7.5 | 3.7V |
| LP752530 | 450mAh | 30 x 25 x 7.5 | 3.7V |
| LP762526 | 450mAh | 26 x 25 x 7.6 | 3.7V |
| LP772030 | 400mAh | 30 x 20 x 7.7 | 3.7V |
| LP772229 | 470mAh | 29 x 22 x 7.7 | 3.7V |
| LP782030 | 400mAh | 30 x 20 x 7.8 | 3.7V |
| LP801636 | 400mAh | 36 x 16 x 8 | 3.7V |
| LP802030 | 400mAh | 30 x 20 x 8 | 3.7V |
| LP802030 | 420mAh | 30 x 20 x 8 | 3.7V |
| LP802035 | 420mAh | 35 x 20 x 8 | 3.7V |
| LP802050 | 420mAh | 50 x 20 x 8 | 3.7V |
| LP802528 | 480mAh | 28 x 25 x 8 | 3.7V |
| LP852525 | 400mAh | 25 x 25 x 8.5 | 3.7V |
| LP852525 | 480mAh | 25 x 25 x 8.5 | 3.7V |
| LP852526 | 450mAh | 26 x 25 x 8.5 | 3.7V |
| LP902030 | 480mAh | 30 x 20 x 9 | 3.7V |
| LP902030 | 480mAh | 30 x 20 x 9 | 3.7V |
| LP902030 | 490mAh | 30 x 20 x 9 | 3.7V |
| LP902323 | 400mAh | 23 x 23 x 9 | 3.7V |
| LP932323 | 400mAh | 23 x 23 x 9.3 | 3.7V |
| LP961924 | 420mAh | 24 x 19 x 9.6 | 3.7V |

The other lipo battery applications
Rebar Detecter | Protable Hardness Tester | Flaw Detector | Moisture Instrument in Concrete | Bike Wireless Computer | Mobile Sensors | Wris-wom Swimming Wearaable | Facial Motion Capture | Fully Automated Pull-Off Tester | Navigation Device on Social Bicycles | Miro Jeweiry Box | Ultrasonic Imaging | Personal Shaving Cup | Smart Medivine Bottle | Smart Walkie-Talkies | Smart Sleep Glasses | Smart Assistant Watch | Mobile Projector | Fingerprint Padlock | Wireless Speaker System | Thinnest Foldable Bluetooth Mouse | Vehicle Monitoring Device | Car Gadget | Boogie Dice | Health Tracking Headband | Smart LED Light | Smart Bra | Handbag Light | Bike Safety Light | Hand Held and Esthetically Lamp | Power Dock | Fidget Controller Gadget | Camera Slider Track Dolly | Wireless Smart Speaker | Asthma Inhaler | Stimulus Generators | Smart Video Door Bell | Wireless Mobile Video Solution | Wireless Device | Lab Automation | Emergency Mobile | Wireless Installation | Fiber Optic Tester | Geolocation Gadgets | Hand Held Instrument Biometric Device | Portable PIC Programmer | Nike Sport Watch | Vehicle Traveling Data Recorder | Linx Impact Assessment System and Blast Gauge System | Wireless Installation AHRS | Digital Wi-Fi Microscopes | Electrocardiograph | RF Analyser | Active 3D Shutter Glasses | Oxygen Monitor | Polysomnography (PSG) | Sleep Apnea Screening | Long Term Blood Pressure Measurement | Smallest long-term EEG recorder | Technical Data Screen | Vehicle Gauging | Watch Recorder | Smart Touchless Faucet Adapter