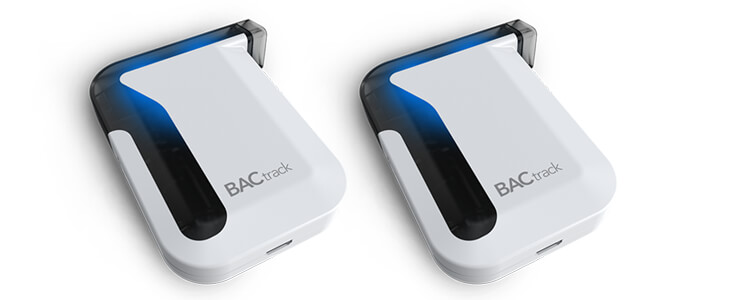 LiPo Battery LP053450 3.7V 850mAh for BAC Tracker

The Tracker Mobile Breathalyzer is powered by lipo battery LP053450 3.7V 850mAh that can be recharged via the micro-USB cable provided. Use the cord to plug the unit into a USB slot on your computer and charging will begin. Please note that the USB cord only charges the device - no data is transmitted.

BAC Tracker Features

The award-winning mobile breathalyzer integrates a smartphone app and professional-grade breathalyzer to bring blood alcohol content wirelessly to your device. Quickly and easily estimate your blood alcohol content, track your results over time. You can even call an Uber directly from the breathalyzer App if you've had too much. Features Bluetooth connectivity, innovative tracking, personalization, and Apple Health integration tools. Ideal for both personal and professional use.

BAC Tracker Tech Specifications

Dimensions: 1.75 x 2.75 x 0.63 inches
Weight: 1.7 oz (47g)
Mouthpieces: 3 included
Battery: Rechargeable lipo battery 850mAh
Sensor Technology: Electrochemical fuel cell
Warm-up Time: About 10 seconds
Blowing Time: 5 seconds
Warranty: 1 Year

How It Works

Compare your perception to actual numbers, and see whether your guesses get better over time.
Allows you to track and attach notes or photos to your results. What you drank and ate, who you were with, and how you felt; personalize results to make more meaningful.

Bluetooth enables a simple connection between track and your device, so you don't have to breathe into your phone, and you can see the app's prompts and results as you blow.
LiPo Battery LP053450 Details
| | |
| --- | --- |
| Battery Type | LiPo Battery |
| Part Number | |
| Voltage @ Capacity | |
| Comfiguration | |
| Wires | |
| | |
| Cut-off Voltage | |
| Thermistor (NTC) | |
| Dimension | |
| Charge Temperature | |
| Discharge Temperature | |
| Storage Temperature | |
LiPo Batteries 800mAh+ List



| | | | |
| --- | --- | --- | --- |
| Part no. | | | |
| LP101751 | 800mAh | 51 x 17 x 10 | 3.7V |
| LP102535 | 800mAh | 35 x 25 x 10 | 3.7V |
| LP102535 | 850mAh | 35 x 25 x 10 | 3.7V |
| LP102634 | 820mAh | 34 x 26 x 10 | 3.7V |
| LP102640 | 800mAh | 40 x 26 x 10 | 3.7V |
| LP103048 | 800mAh | 48 x 30 x 10 | 3.7V |
| LP245064 | 800mAh | 64 x 50 x 2.4 | 3.7V |
| LP304265 | 800mAh | 65 x 42 x 3 | 3.7V |
| LP364551 | 880mAh | 51 x 45 x 3.6 | 3.7V |
| LP373258 | 870mAh | 58 x 32 x 3.7 | 3.7V |
| LP373260 | 890mAh | 60 x 32 x 3.7 | 3.7V |
| LP382775 | 850mAh | 75 x 27 x 3.8 | 3.7V |
| LP383562 | 840mAh | 62 x 35 x 3.8 | 3.7V |
| LP383562 | 850mAh | 62 x 35 x 3.8 | 3.7V |
| LP402480 | 800mAh | 80 x 24 x 4 | 3.7V |
| LP403759 | 850mAh | 59 x 37 x 4 | 3.7V |
| LP403759 | 850mAh | 59 x 37 x 4 | 3.7V |
| LP403760 | 850mAh | 60 x 37 x 4 | 3.7V |
| LP405065 | 880mAh | 65 x 50 x 4 | 3.7V |
| LP423450 | 800mAh | 50 x 34 x 4.2 | 3.7V |
| LP463450 | 800mAh | 50 x 34 x 4.6 | 3.7V |
| LP483448 | 820mAh | 48 x 34 x 4.8 | 3.7V |
| LP502460 | 800mAh | 60 x 24 x 5 | 3.7V |
| LP503048 | 800mAh | 48 x 30 x 5 | 3.7V |
| LP503442 | 800mAh | 42 x 34 x 5 | 3.7V |
| LP503450 | 850mAh | 50 x 34 x 5 | 3.7V |
| LP503450 | 850mAh | 50 x 34 x 5 | 3.7V |
| LP503450 | 850mAh | 50 x 34 x 5 | 3.7V |
| LP503648 | 850mAh | 48 x 36 x 5 | 3.7V |
| LP523048 | 850mAh | 48 x 30 x 5.2 | 3.7V |
| LP533448 | 870mAh | 48 x 34 x 5.3 | 3.7V |
| LP552072 | 800mAh | 72 x 20 x 5.5 | 3.7V |
| LP552360 | 800mAh | 60 x 23 x 5.5 | 3.7V |
| LP553442 | 800mAh | 42 x 34 x 5.5 | 3.7V |
| LP553444 | 850mAh | 44 x 34 x 5.5 | 3.7V |
| LP553740 | 800mAh | 40 x 37 x 5.5 | 3.7V |
| LP582750 | 800mAh | 50 x 27 x 5.8 | 3.7V |
| LP583045 | 800mAh | 45 x 30 x 5.8 | 3.7V |
| LP583048 | 850mAh | 48 x 30 x 5.8 | 3.7V |
| LP603045 | 800mAh | 45 x 30 x 6 | 3.7V |
| LP603048 | 850mAh | 48 x 30 x 6 | 3.7V |
| LP603048 | 870mAh | 48 x 30 x 6 | 3.7V |
| LP603443 | 800mAh | 43 x 34 x 6 | 3.7V |
| LP603443 | 850mAh | 43 x 34 x 6 | 3.7V |
| LP603839 | 850mAh | 39 x 38 x 6 | 3.7V |
| LP613442 | 800mAh | 42 x 34 x 6.1 | 3.7V |
| LP632265 | 800mAh | 65 x 22 x 6.3 | 3.7V |
| LP633137 | 800mAh | 37 x 31 x 6.3 | 3.7V |
| LP633235 | 800mAh | 35 x 32 x 6.3 | 3.7V |
| LP643040 | 800mAh | 40 x 30 x 6.4 | 3.7V |
| LP652535 | 800mAh | 35 x 25 x 6.5 | 3.7V |
| LP653040 | 800mAh | 40 x 30 x 6.5 | 3.7V |
| LP653040 | 800mAh | 40 x 30 x 6.5 | 3.7V |
| LP653235 | 800mAh | 35 x 32 x 6.5 | 3.7V |
| LP673436 | 850mAh | 36 x 34 x 6.7 | 3.7V |
| LP681966 | 880mAh | 66 x 19 x 6.8 | 3.7V |
| LP701488 | 850mAh | 88 x 14 x 7 | 3.7V |
| LP702058 | 800mAh | 58 x 20 x 7 | 3.7V |
| LP702060 | 850mAh | 60 x 20 x 7 | 3.7V |
| LP702250 | 800mAh | 50 x 22 x 7 | 3.7V |
| LP702549 | 800mAh | 49 x 25 x 7 | 3.7V |
| LP703040 | 800mAh | 40 x 30 x 7 | 3.7V |
| LP703043 | 800mAh | 43 x 30 x 7 | 3.7V |
| LP703434 | 800mAh | 34 x 34 x 7 | 3.7V |
| LP753042 | 850mAh | 42 x 30 x 7.5 | 3.7V |
| LP762252 | 850mAh | 52 x 22 x 7.6 | 3.7V |
| LP762740 | 800mAh | 40 x 27 x 7.6 | 3.7V |
| LP773436 | 850mAh | 36 x 34 x 7.7 | 3.7V |
| LP783235 | 850mAh | 35 x 32 x 7.8 | 3.7V |
| LP801470 | 800mAh | 70 x 14 x 8 | 3.7V |
| LP801672 | 850mAh | 72 x 16 x 8 | 3.7V |
| LP801955 | 850mAh | 55 x 19 x 8 | 3.7V |
| LP802055 | 850mAh | 55 x 20 x 8 | 3.7V |
| LP802059 | 800mAh | 59 x 20 x 8 | 3.7V |
| LP802540 | 800mAh | 40 x 25 x 8 | 3.7V |
| LP802540 | 860mAh | 40 x 25 x 8 | 3.7V |
| LP803035 | 800mAh | 35 x 30 x 8 | 3.7V |
| LP803035 | 820mAh | 35 x 30 x 8 | 3.7V |
| LP803235 | 850mAh | 35 x 32 x 8 | 3.7V |
| LP822243 | 800mAh | 43 x 22 x 8.2 | 3.7V |
| LP851660 | 850mAh | 60 x 16 x 8.5 | 3.7V |
| LP852143 | 800mAh | 43 x 21 x 8.5 | 3.7V |
| LP852444 | 830mAh | 44 x 24 x 8.5 | 3.7V |
| LP852538 | 800mAh | 38 x 25 x 8.5 | 3.7V |
| LP852540 | 800mAh | 40 x 25 x 8.5 | 3.7V |
| LP853328 | 800mAh | 28 x 33 x 8.5 | 3.7V |
| LP861556 | 800mAh | 56 x 15 x 8.6 | 3.7V |
| LP872045 | 800mAh | 45 x 20 x 8.7 | 3.7V |
| LP882240 | 860mAh | 40 x 22 x 8.8 | 3.7V |
| LP901943 | 800mAh | 43 x 19 x 9 | 3.7V |
| LP902045 | 800mAh | 45 x 20 x 9 | 3.7V |
| LP902050 | 850mAh | 50 x 20 x 9 | 3.7V |
| LP933229 | 850mAh | 29 x 32 x 9.3 | 3.7V |
| LP952045 | 850mAh | 45 x 20 x 9.5 | 3.7V |
| LP952240 | 800mAh | 40 x 22 x 9.5 | 3.7V |
| LP952438 | 830mAh | 38 x 24 x 9.5 | 3.7V |
| LP952535 | 810mAh | 35 x 25 x 9.5 | 3.7V |
| LP952536 | 800mAh | 36 x 25 x 9.5 | 3.7V |
| LP952537 | 830mAh | 37 x 25 x 9.5 | 3.7V |
| LP952540 | 850mAh | 40 x 25 x 9.5 | 3.7V |
| LP962830 | 850mAh | 30 x 28 x 9.6 | 3.7V |

The other lipo battery applications
Rebar Detecter | Protable Hardness Tester | Flaw Detector | Moisture Instrument in Concrete | Bike Wireless Computer | Mobile Sensors | Wris-wom Swimming Wearaable | Facial Motion Capture | Fully Automated Pull-Off Tester | Navigation Device on Social Bicycles | Miro Jeweiry Box | Ultrasonic Imaging | Personal Shaving Cup | Smart Medivine Bottle | Smart Walkie-Talkies | Smart Sleep Glasses | Smart Assistant Watch | Mobile Projector | Fingerprint Padlock | Wireless Speaker System | Thinnest Foldable Bluetooth Mouse | Vehicle Monitoring Device | Car Gadget | Boogie Dice | Health Tracking Headband | Smart LED Light | Smart Bra | Handbag Light | Bike Safety Light | Hand Held and Esthetically Lamp | Power Dock | Fidget Controller Gadget | Camera Slider Track Dolly | Wireless Smart Speaker | Asthma Inhaler | Stimulus Generators | Smart Video Door Bell | Wireless Mobile Video Solution | Wireless Device | Lab Automation | Emergency Mobile | Wireless Installation | Fiber Optic Tester | Geolocation Gadgets | Hand Held Instrument Biometric Device | Portable PIC Programmer | Nike Sport Watch | Vehicle Traveling Data Recorder | Linx Impact Assessment System and Blast Gauge System | Wireless Installation AHRS | Digital Wi-Fi Microscopes | Electrocardiograph | RF Analyser | Active 3D Shutter Glasses | Oxygen Monitor | Polysomnography (PSG) | Sleep Apnea Screening | Long Term Blood Pressure Measurement | Smallest long-term EEG recorder | Technical Data Screen | Vehicle Gauging | Watch Recorder | Smart Touchless Faucet Adapter