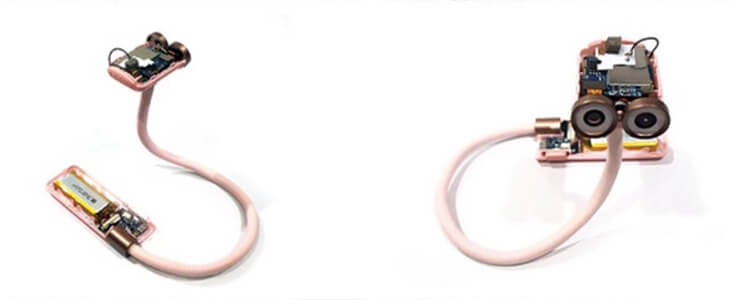 LiPo Battery LP451646 300mAh for Flex Camera

A flex camera includes a small lipo battery LP451646 300mAh. Your Creative Muse doesn't merely shoot photos. It helps create memories for life. Anytime with your wonderful record life, anywhere with your flex camera, the flex camera never let a creative moment be forgotten. It can celebrate every stroke of genius for those who create. Enjoyment will be maximized if you try flex camera with the app.

Anyone can imagine it, but no one's created a camera quite like this. Defy square-shaped, accessory-needy, typical camera design. Meet flex-body, no accessory needed, 100% unique oppy!
Long-lasting lipo battery LP451646 300mAh for flex camera life
Ample memory capacity
Excellent image, and video quality, Digital Image Stabilization
It can Insert SD Card (Max. 32GB)
And Connecting Charging Cable (5Pin)
The Battery LP451646 300mAh for flex camera with 90 minutes Operation minimum
Flex camera is splash proof due to Equipped with a splash-proof helmet. Waterproof Case currently IPX6 (splash-proof). Waterproof case for immersion/diving in-development.

LiPo Battery LP451646 Details
| | |
| --- | --- |
| Battery Type | LiPo Battery |
| Part Number | LP451646 |
| Voltage @ Capacity | 3.7V @ 300mAh |
| Comfiguration | 1S1P |
| Wires | UL1571 AWG28 30m*2 |
| | Molex 51021-0200 |
| Cut-off Voltage | 3.00V |
| Thermistor (NTC) | no |
| Dimension | 4.5 x 16 x 46mm |
| Charge Temperature | 0°C to +45°C |
| Discharge Temperature | -20°C to +60°C |
| Storage Temperature | -20°C to +45°C |
LiPo Batteries

| | | | |
| --- | --- | --- | --- |
| Part Number | Capacity | L x W x T (mm) | Voltage |
| LP232575 | 300mAh | 75 x 25 x 2.3 | 3.7V |
| LP233075 | 390mAh | 75 x 30 x 2.3 | 3.7V |
| LP253242 | 320mAh | 42 x 32 x 2.5 | 3.7V |
| LP253549 | 350mAh | 49 x 35 x 2.5 | 3.7V |
| LP253836 | 300mAh | 36 x 38 x 2.5 | 3.7V |
| LP263545 | 380mAh | 45 x 35 x 2.6 | 3.7V |
| LP274330 | 300mAh | 30 x 43 x 2.7 | 3.7V |
| LP293442 | 380mAh | 42 x 34 x 2.9 | 3.7V |
| LP303040 | 300mAh | 40 x 30 x 3 | 3.7V |
| LP303442 | 350mAh | 42 x 34 x 3 | 3.7V |
| LP312539 | 320mAh | 39 x 25 x 3.1 | 3.7V |
| LP321672 | 320mAh | 72 x 16 x 3.2 | 3.7V |
| LP321863 | 320mAh | 63 x 18 x 3.2 | 3.7V |
| LP322544 | 320mAh | 44 x 25 x 3.2 | 3.7V |
| LP332830 | 300mAh | 30 x 28 x 3.3 | 3.7V |
| LP342734 | 310mAh | 34 x 27 x 3.4 | 3.7V |
| LP351672 | 360mAh | 72 x 16 x 3.5 | 3.7V |
| LP352044 | 300mAh | 44 x 20 x 3.5 | 3.7V |
| LP352055 | 350mAh | 55 x 20 x 3.5 | 3.7V |
| LP352545 | 350mAh | 45 x 25 x 3.5 | 3.7V |
| LP353030 | 300mAh | 30 x 30 x 3.5 | 3.7V |
| LP353035 | 300mAh | 35 x 30 x 3.5 | 3.7V |
| LP353040 | 330mAh | 40 x 30 x 3.5 | 3.7V |
| LP362935 | 350mAh | 35 x 29 x 3.6 | 3.7V |
| LP372835 | 300mAh | 35 x 28 x 3.7 | 3.7V |
| LP373031 | 300mAh | 31 x 30 x 3.7 | 3.7V |
| LP373036 | 350mAh | 36 x 30 x 3.7 | 3.7V |
| LP381468 | 340mAh | 68 x 14 x 3.8 | 3.7V |
| LP383034 | 300mAh | 34 x 30 x 3.8 | 3.7V |
| LP401750 | 300mAh | 50 x 17 x 4 | 3.7V |
| LP402040 | 300mAh | 40 x 20 x 4 | 3.7V |
| LP402040 | 320mAh | 40 x 20 x 4 | 3.7V |
| LP402050 | 360mAh | 50 x 20 x 4 | 3.7V |
| LP402050 | 380mAh | 50 x 20 x 4 | 3.7V |
| LP402440 | 390mAh | 40 x 24 x 4 | 3.7V |
| LP402445 | 380mAh | 45 x 24 x 4 | 3.7V |
| LP402535 | 300mAh | 35 x 25 x 4 | 3.7V |
| LP402535 | 310mAh | 35 x 25 x 4 | 3.7V |
| LP403030 | 300mAh | 30 x 30 x 4 | 3.7V |
| LP403031 | 360mAh | 31 x 30 x 4 | 3.7V |
| LP403035 | 350mAh | 35 x 30 x 4 | 3.7V |
| LP403040 | 380mAh | 40 x 30 x 4 | 3.7V |
| LP421266 | 300mAh | 66 x 12 x 4.2 | 3.7V |
| LP422040 | 300mAh | 40 x 20 x 4.2 | 3.7V |
| LP422533 | 300mAh | 33 x 25 x 4.2 | 3.7V |
| LP423030 | 350mAh | 30 x 30 x 4.2 | 3.7V |
| LP432827 | 330mAh | 27 x 28 x 4.3 | 3.7V |
| LP442630 | 315mAh | 30 x 26 x 4.4 | 3.7V |
| LP451165 | 300mAh | 65 x 11 x 4.5 | 3.7V |
| LP451646 | 300mAh | 46 x 16 x 4.5 | 3.7V |
| LP451842 | 335mAh | 42 x 18 x 4.5 | 3.7V |
| LP452043 | 360mAh | 43 x 20 x 4.5 | 3.7V |
| LP452045 | 380mAh | 45 x 20 x 4.5 | 3.7V |
| LP452528 | 300mAh | 28 x 25 x 4.5 | 3.7V |
| LP452530 | 310mAh | 30 x 25 x 4.5 | 3.7V |
| LP452533 | 320mAh | 33 x 25 x 4.5 | 3.7V |
| LP452535 | 350mAh | 35 x 25 x 4.5 | 3.7V |
| LP452728 | 310mAh | 28 x 27 x 4.5 | 3.7V |
| LP453030 | 360mAh | 30 x 30 x 4.5 | 3.7V |
| LP462040 | 320mAh | 40 x 20 x 4.6 | 3.7V |
| LP462430 | 300mAh | 30 x 24 x 4.6 | 3.7V |
| LP471360 | 330mAh | 60 x 13 x 4.7 | 3.7V |
| LP481449 | 300mAh | 49 x 14 x 4.8 | 3.7V |
| LP481738 | 300mAh | 38 x 17 x 4.8 | 3.7V |
| LP482530 | 300mAh | 30 x 25 x 4.8 | 3.7V |
| LP482827 | 360mAh | 27 x 28 x 4.8 | 3.7V |
| LP482930 | 390mAh | 30 x 29 x 4.8 | 3.7V |
| LP491360 | 320mAh | 60 x 13 x 4.9 | 3.7V |
| LP501550 | 300mAh | 50 x 15 x 5 | 3.7V |
| LP501646 | 300mAh | 46 x 16 x 5 | 3.7V |
| LP501738 | 300mAh | 38 x 17 x 5 | 3.7V |
| LP501738 | 320mAh | 38 x 17 x 5 | 3.7V |
| LP501838 | 300mAh | 38 x 18 x 5 | 3.7V |
| LP501842 | 320mAh | 42 x 18 x 5 | 3.7V |
| LP501935 | 300mAh | 35 x 19 x 5 | 3.7V |
| LP502035 | 300mAh | 35 x 20 x 5 | 3.7V |
| LP502040 | 340mAh | 40 x 20 x 5 | 3.7V |
| LP502131 | 330mAh | 31 x 21 x 5 | 3.7V |
| LP502235 | 365mAh | 35 x 22 x 5 | 3.7V |
| LP502236 | 380mAh | 36 x 22 x 5 | 3.7V |
| LP502528 | 300mAh | 28 x 25 x 5 | 3.7V |
| LP502528 | 320mAh | 28 x 25 x 5 | 3.7V |
| LP502530 | 300mAh | 30 x 25 x 5 | 3.7V |
| LP502530 | 350mAh | 30 x 25 x 5 | 3.7V |
| LP502535 | 300mAh | 35 x 25 x 5 | 3.7V |
| LP522040 | 380mAh | 40 x 20 x 5.2 | 3.7V |
| LP522530 | 380mAh | 30 x 25 x 5.2 | 3.7V |
| LP522535 | 395mAh | 35 x 25 x 5.2 | 3.7V |
| LP522824 | 350mAh | 24 x 28 x 5.2 | 3.7V |
| LP522826 | 320mAh | 26 x 28 x 5.2 | 3.7V |
| LP532033 | 330mAh | 33 x 20 x 5.3 | 3.7V |
| LP532040 | 390mAh | 40 x 20 x 5.3 | 3.7V |
| LP532233 | 370mAh | 33 x 22 x 5.3 | 3.7V |
| LP541841 | 370mAh | 41 x 18 x 5.4 | 3.7V |
| LP551160 | 350mAh | 60 x 11 x 5.5 | 3.7V |
| LP551263 | 350mAh | 63 x 12 x 5.5 | 3.7V |
| LP551834 | 300mAh | 34 x 18 x 5.5 | 3.7V |
| LP552033 | 330mAh | 33 x 20 x 5.5 | 3.7V |
| LP552035 | 350mAh | 35 x 20 x 5.5 | 3.7V |
| LP552035 | 370mAh | 35 x 20 x 5.5 | 3.7V |
| LP552530 | 350mAh | 30 x 25 x 5.5 | 3.7V |
| LP562035 | 350mAh | 35 x 20 x 5.6 | 3.7V |
| LP572030 | 310mAh | 30 x 20 x 5.7 | 3.7V |
| LP572225 | 310mAh | 25 x 22 x 5.7 | 3.7V |
| LP572225 | 320mAh | 25 x 22 x 5.7 | 3.7V |
| LP581646 | 380mAh | 46 x 16 x 5.8 | 3.7V |
| LP581735 | 300mAh | 35 x 17 x 5.8 | 3.7V |
| LP581838 | 350mAh | 38 x 18 x 5.8 | 3.7V |
| LP582628 | 360mAh | 28 x 26 x 5.8 | 3.7V |
| LP591738 | 360mAh | 38 x 17 x 5.9 | 3.7V |
| LP601642 | 350mAh | 42 x 16 x 6 | 3.7V |
| LP601733 | 320mAh | 33 x 17 x 6 | 3.7V |
| LP601742 | 350mAh | 42 x 17 x 6 | 3.7V |
| LP601836 | 350mAh | 36 x 18 x 6 | 3.7V |
| LP602028 | 300mAh | 28 x 20 x 6 | 3.7V |
| LP602030 | 300mAh | 30 x 20 x 6 | 3.7V |
| LP602035 | 380mAh | 35 x 20 x 6 | 3.7V |
| LP602425 | 300mAh | 25 x 24 x 6 | 3.7V |
| LP602525 | 300mAh | 25 x 25 x 6 | 3.7V |
| LP602526 | 320mAh | 26 x 25 x 6 | 3.7V |
| LP621537 | 300mAh | 37 x 15 x 6.2 | 3.7V |
| LP621727 | 300mAh | 27 x 17 x 6.2 | 3.7V |
| LP622030 | 320mAh | 30 x 20 x 6.2 | 3.7V |
| LP642527 | 380mAh | 27 x 25 x 6.4 | 3.7V |
| LP651637 | 350mAh | 37 x 16 x 6.5 | 3.7V |
| LP651640 | 380mAh | 40 x 16 x 6.5 | 3.7V |
| LP652030 | 350mAh | 30 x 20 x 6.5 | 3.7V |
| LP652425 | 340mAh | 25 x 24 x 6.5 | 3.7V |
| LP652526 | 350mAh | 26 x 25 x 6.5 | 3.7V |
| LP672030 | 350mAh | 30 x 20 x 6.7 | 3.7V |
| LP681738 | 390mAh | 38 x 17 x 6.8 | 3.7V |
| LP682030 | 350mAh | 30 x 20 x 6.8 | 3.7V |
| LP683221 | 350mAh | 21 x 32 x 6.8 | 3.7V |
| LP701248 | 350mAh | 48 x 12 x 7 | 3.7V |
| LP701434 | 300mAh | 34 x 14 x 7 | 3.7V |
| LP701438 | 320mAh | 38 x 14 x 7 | 3.7V |
| LP701439 | 320mAh | 39 x 14 x 7 | 3.7V |
| LP701833 | 380mAh | 33 x 18 x 7 | 3.7V |
| LP702025 | 300mAh | 25 x 20 x 7 | 3.7V |
| LP702030 | 350mAh | 30 x 20 x 7 | 3.7V |
| LP702030 | 380mAh | 30 x 20 x 7 | 3.7V |
| LP731836 | 350mAh | 36 x 18 x 7.3 | 3.7V |
| LP751435 | 330mAh | 35 x 14 x 7.5 | 3.7V |
| LP751635 | 380mAh | 35 x 16 x 7.5 | 3.7V |
| LP752030 | 300mAh | 30 x 20 x 7.5 | 3.7V |
| LP801730 | 350mAh | 30 x 17 x 8 | 3.7V |
| LP802025 | 300mAh | 25 x 20 x 8 | 3.7V |
| LP822024 | 320mAh | 24 x 20 x 8.2 | 3.7V |
| LP831730 | 350mAh | 30 x 17 x 8.3 | 3.7V |
| LP851630 | 350mAh | 30 x 16 x 8.5 | 3.7V |
| LP851730 | 380mAh | 30 x 17 x 8.5 | 3.7V |
| LP852025 | 320mAh | 25 x 20 x 8.5 | 3.7V |




The other applications
Rebar Detecter | Protable Hardness Tester | Flaw Detector | Moisture Instrument in Concrete | Bike Wireless Computer | Mobile Sensors | Wris-wom Swimming Wearaable | Facial Motion Capture | Fully Automated Pull-Off Tester | Navigation Device on Social Bicycles | Miro Jeweiry Box | Ultrasonic Imaging | Personal Shaving Cup | Smart Medivine Bottle | Smart Walkie-Talkies | Smart Sleep Glasses | Smart Assistant Watch | Mobile Projector | Fingerprint Padlock | Wireless Speaker System | Thinnest Foldable Bluetooth Mouse | Vehicle Monitoring Device | Car Gadget | Boogie Dice | Health Tracking Headband | Smart LED Light | Smart Bra | Handbag Light | Bike Safety Light | Hand Held and Esthetically Lamp | Power Dock | Fidget Controller Gadget | Camera Slider Track Dolly | Wireless Smart Speaker | Asthma Inhaler | Stimulus Generators | Smart Video Door Bell | Wireless Mobile Video Solution | Wireless Device | Lab Automation | Emergency Mobile | Wireless Installation | Fiber Optic Tester | Geolocation Gadgets | Hand Held Instrument Biometric Device | Portable PIC Programmer | Nike Sport Watch | Vehicle Traveling Data Recorder | Linx Impact Assessment System and Blast Gauge System | Wireless Installation AHRS | Digital Wi-Fi Microscopes | Electrocardiograph | RF Analyser | Active 3D Shutter Glasses | Oxygen Monitor | Polysomnography (PSG) | Sleep Apnea Screening | Long Term Blood Pressure Measurement | Smallest long-term EEG recorder | Technical Data Screen | Vehicle Gauging | Watch Recorder | Smart Touchless Faucet Adapter