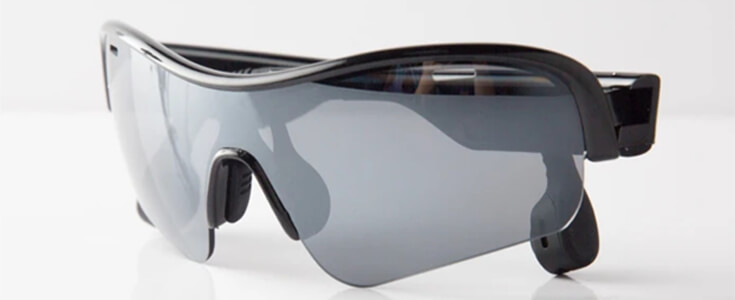 LiPo Battery 180mAh for Bone Conduction Audio Sunglasses

Bone conduction audio sunglasses is a performance optics & premium stereo with smaller lipo battery LP301360 3.7V 180mAh. We never miss a beat, no matter your adventure introducing to high-performance sunglasses powered by revolutionary bone conduction technology.

It's different from any bone conduction products in the market and delivers premium stereo sound through the cartilage behind the ear. The open ear design not only is nature to sunglasses but also keeps you aware of the world around you by sending vibrations through the ear cartilage.
Best-in-class bone conduction audio
Bluetooth 5.0
Behind the ear transducers
Rechargeable LiPo Battery 3.7V 180mAh
UV400 polycarbonate interchangeable lenses
TR-90 nylon frame
The bone conduction sound is harmonious with more bass and it helps you stay connected via Bluetooth and allows you to enjoy music, listen to podcasts and make calls on your adventures. We pioneer the bone conduction into headphones category with aftershocks the experience of opening year music is so astonishing and serviceable. We integrated the technology onto performance optics. It built by the team that leads the bone conduction audio industry with over 200 patents.

Rebbe's showcases the behind your transducers that make bone conduction sunglasses possible. They suppress sound leakage and allows you to enjoy the music immediately. Boosted by six hours of lipo battery LP301360 3.7V 180mAh life and IP55 sweat resistance.

Lens: Interchangeable Teijin ® Polycarbonate lens
Frame Materials: TR90, Rubber, Ni-Ti Alloy
Power: LiPo Battery 3.7V 180mAh (LiPol Battery Co. Ltd)
Battery Life: 6-hour continuous play; up to 10 days standby
Charge time: Less than 2 hours
Sweatproof level: IP55
Support: HSP, HFP, A2DP & AVRCP
Wireless range: 10m
Weight: 45.0±0.5g
Speaker type: Bone Conduction Transducers
Dimensions: 17.40×13.50×13.80mm
Impedance DC:8.5±0.5
Sensitivity: 100dB±3dB
Frequency Range: 20Hz-20kHz
Microphone: MEMS
Microphone Size: φ4.0×2.0mm
Sensitivity: -38dB±3dB(94dB SPL @1Khz)
Directivity: Omnidirectional
Output Impedance: 2.2k(At 1kHz)
Working Voltage (DC): 1.5~3.6V
Current Consumption: Less than 0.5mA
Signal to Noise Ratio: 60dB(94dB SPL @1Khz, A weighed)
LiPo Battery LP301360 Details
| | |
| --- | --- |
| Battery Type | LiPo Battery |
| Part Number | LP301360 |
| Voltage @ Capacity | 3.7V @ 180mAh |
| Comfiguration | 1S1P |
| Wires | UL1571 AWG30 10m*2 |
| | Hirose DF52-2P-0.8C |
| Cut-off Voltage | 2.75V |
| Thermistor (NTC) | no |
| Dimension | 3.0 x 13 x 60mm |
| Charge Temperature | 0°C to +45°C |
| Discharge Temperature | -20°C to +60°C |
| Storage Temperature | -20°C to +45°C |
LiPo Battery 100mAh+

| | | | |
| --- | --- | --- | --- |
| model | capacity | Dimension (mm) | Voltage |
| LP202060 | 100mAh | 60 x 20 x 2.0 | 3.7V |
| LP221838 | 100mAh | 38 x 18 x 2.2 | 3.7V |
| LP241838 | 100mAh | 38 x 18 x 2.4 | 3.7V |
| LP242530 | 130mAh | 30 x 25 x 2.4 | 3.7V |
| LP251744 | 130mAh | 44 x 17 x 2.5 | 3.7V |
| LP252030 | 100mAh | 30 x 20 x 2.5 | 3.7V |
| LP252030 | 110mAh | 30 x 20 x 2.5 | 3.7V |
| LP252038 | 150mAh | 38 x 20 x 2.5 | 3.7V |
| LP262535 | 180mAh | 35 x 25 x 2.6 | 3.7V |
| LP292125 | 120mAh | 25 x 21 x 2.9 | 3.7V |
| LP301045 | 100mAh | 45 x 10 x 3 | 3.7V |
| LP301360 | 180mAh | 60 x 13 x 3 | 3.7V |
| LP301646 | 185mAh | 46 x 16 x 3 | 3.7V |
| LP301728 | 110mAh | 28 x 17 x 3 | 3.7V |
| LP301730 | 100mAh | 30 x 17 x 3 | 3.7V |
| LP301730 | 110mAh | 30 x 17 x 3 | 3.7V |
| LP301738 | 140mAh | 38 x 17 x 3 | 3.7V |
| LP301745 | 180mAh | 45 x 17 x 3 | 3.7V |
| LP301828 | 110mAh | 28 x 18 x 3 | 3.7V |
| LP302025 | 110mAh | 25 x 20 x 3 | 3.7V |
| LP302030 | 120mAh | 30 x 20 x 3 | 3.7V |
| LP302030 | 130mAh | 30 x 20 x 3 | 3.7V |
| LP302030 | 140mAh | 30 x 20 x 3 | 3.7V |
| LP302035 | 160mAh | 35 x 20 x 3 | 3.7V |
| LP302040 | 190mAh | 40 x 20 x 3 | 3.7V |
| LP302045 | 190mAh | 45 x 20 x 3 | 3.7V |
| LP302228 | 150mAh | 28 x 22 x 3 | 3.7V |
| LP302235 | 170mAh | 35 x 22 x 3 | 3.7V |
| LP302323 | 110mAh | 23 x 23 x 3 | 3.7V |
| LP302430 | 170mAh | 30 x 24 x 3 | 3.7V |
| LP302430 | 180mAh | 30 x 24 x 3 | 3.7V |
| LP302528 | 180mAh | 28 x 25 x 3 | 3.7V |
| LP302530 | 170mAh | 30 x 25 x 3 | 3.7V |
| LP302530 | 180mAh | 30 x 25 x 3 | 3.7V |
| LP302628 | 180mAh | 28 x 26 x 3 | 3.7V |
| LP303321 | 145mAh | 21 x 33 x 3 | 3.7V |
| LP311436 | 120mAh | 36 x 14 x 3.1 | 3.7V |
| LP312326 | 190mAh | 26 x 23 x 3.1 | 3.7V |
| LP321343 | 140mAh | 43 x 13 x 3.2 | 3.7V |
| LP321445 | 160mAh | 45 x 14 x 3.2 | 3.7V |
| LP322022 | 100mAh | 22 x 20 x 3.2 | 3.7V |
| LP322027 | 160mAh | 27 x 20 x 3 | 3.7V |
| LP322826 | 175mAh | 26 x 28 x 3.2 | 3.7V |
| LP323030 | 190mAh | 30 x 30 x 3.2 | 3.7V |
| LP331440 | 160mAh | 40 x 14 x 3.3 | 3.7V |
| LP341921 | 120mAh | 21 x 19 x 3.4 | 3.7V |
| LP342323 | 130mAh | 23 x 23 x 3.4 | 3.7V |
| LP351133 | 100mAh | 33 x 11 x 3.5 | 3.7V |
| LP351448 | 170mAh | 48 x 14 x 3.5 | 3.7V |
| LP351534 | 135mAh | 34 x 15 x 3.5 | 3.7V |
| LP351623 | 112mAh | 23 x 16 x 3.5 | 3.7V |
| LP351626 | 130mAh | 26 x 16 x 3.5 | 3.7V |
| LP351729 | 130mAh | 29 x 17 x 3.5 | 3.7V |
| LP351730 | 120mAh | 30 x 17 x 3.5 | 3.7V |
| LP351735 | 170mAh | 35 x 17 x 3.5 | 3.7V |
| LP351738 | 180mAh | 38 x 17 x 3.5 | 3.7V |
| LP351740 | 180mAh | 40 x 17 x 3.5 | 3.7V |
| LP352025 | 110mAh | 25 x 20 x 3.5 | 3.7V |
| LP352323 | 135mAh | 23 x 23 x 3.5 | 3.7V |
| LP352525 | 160mAh | 25 x 25 x 3.5 | 3.7V |
| LP371040 | 105mAh | 40 x 10 x 3.7 | 3.7V |
| LP371230 | 110mAh | 30 x 12 x 3.7 | 3.7V |
| LP381525 | 100mAh | 25 x 15 x 3.8 | 3.7V |
| LP381528 | 100mAh | 28 x 15 x 3.8 | 3.7V |
| LP381530 | 110mAh | 30 x 15 x 3.8 | 3.7V |
| LP381725 | 110mAh | 25 x 17 x 3.8 | 3.7V |
| LP381921 | 130mAh | 21 x 19 x 3.8 | 3.7V |
| LP382025 | 150mAh | 25 x 20 x 3.8 | 3.7V |
| LP382120 | 110mAh | 20 x 21 x 3.8 | 3.7V |
| LP382525 | 190mAh | 25 x 25 x 3.8 | 3.7V |
| LP391625 | 155mAh | 25 x 16 x 3.9 | 3.7V |
| LP401033 | 100mAh | 33 x 10 x 4 | 3.7V |
| LP401040 | 120mAh | 40 x 10 x 4 | 3.7V |
| LP401133 | 110mAh | 33 x 11 x 4 | 3.7V |
| LP401230 | 110mAh | 30 x 12 x 4 | 3.7V |
| LP401235 | 120mAh | 35 x 12 x 4 | 3.7V |
| LP401235 | 130mAh | 35 x 12 x 4 | 3.7V |
| LP401242 | 170mAh | 42 x 12 x 4 | 3.7V |
| LP401248 | 175mAh | 48 x 12 x 4 | 3.7V |
| LP401323 | 115mAh | 23 x 13 x 4 | 3.7V |
| LP401425 | 100mAh | 25 x 14 x 4 | 3.7V |
| LP401428 | 120mAh | 28 x 14 x 4 | 3.7V |
| LP401429 | 130mAh | 29 x 14 x 4 | 3.7V |
| LP401430 | 120mAh | 30 x 14 x 4 | 3.7V |
| LP401522 | 100mAh | 22 x 15 x 4 | 3.7V |
| LP401537 | 170mAh | 37 x 15 x 4 | 3.7V |
| LP401622 | 100mAh | 22 x 16 x 4 | 3.7V |
| LP401633 | 150mAh | 33 x 16 x 4 | 3.7V |
| LP401725 | 110mAh | 25 x 17 x 4 | 3.7V |
| LP401725 | 120mAh | 25 x 17 x 4 | 3.7V |
| LP401730 | 150mAh | 30 x 17 x 4 | 3.7V |
| LP401730 | 160mAh | 30 x 17 x 4 | 3.7V |
| LP401730 | 170mAh | 30 x 17 x 4 | 3.7V |
| LP402020 | 110mAh | 20 x 20 x 4 | 3.7V |
| LP402024 | 160mAh | 24 x 20 x 4 | 3.7V |
| LP402025 | 150mAh | 25 x 20 x 4 | 3.7V |
| LP402028 | 180mAh | 28 x 20 x 4 | 3.7V |
| LP402030 | 180mAh | 30 x 20 x 4 | 3.7V |
| LP402030 | 180mAh | 30 x 20 x 4 | 3.7V |
| LP402030 | 190mAh | 30 x 20 x 4 | 3.7V |
| LP402127 | 190mAh | 27 x 21 x 4 | 3.7V |
| LP421130 | 110mAh | 30 x 11 x 4.2 | 3.7V |
| LP421133 | 125mAh | 33 x 11 x 4.2 | 3.7V |
| LP421645 | 100mAh | 45 x 16 x 4.2 | 3.7V |
| LP421724 | 110mAh | 24 x 17 x 4.2 | 3.7V |
| LP421724 | 125mAh | 24 x 17 x 4.2 | 3.7V |
| LP421730 | 175mAh | 30 x 17 x 4.2 | 3.7V |
| LP422025 | 180mAh | 25 x 20 x 4.2 | 3.7V |
| LP431426 | 110mAh | 26 x 14 x 4.3 | 3.7V |
| LP441133 | 120mAh | 33 x 11 x 4.4 | 3.7V |
| LP451225 | 100mAh | 25 x 12 x 4.5 | 3.7V |
| LP451226 | 110mAh | 26 x 12 x 4.5 | 3.7V |
| LP451421 | 105mAh | 21 x 14 x 4.5 | 3.7V |
| LP451423 | 110mAh | 23 x 14 x 4.5 | 3.7V |
| LP451430 | 150mAh | 30 x 14 x 4.5 | 3.7V |
| LP451522 | 100mAh | 22 x 15 x 4.5 | 3.7V |
| LP451524 | 120mAh | 24 x 15 x 4.5 | 3.7V |
| LP451528 | 150mAh | 28 x 15 x 4.5 | 3.7V |
| LP451632 | 180mAh | 32 x 16 x 4.5 | 3.7V |
| LP451725 | 120mAh | 25 x 17 x 4.5 | 3.7V |
| LP451827 | 160mAh | 27 x 18 x 4.5 | 3.7V |
| LP461435 | 180mAh | 35 x 14 x 4.6 | 3.7V |
| LP461730 | 185mAh | 30 x 17 x 4.6 | 3.7V |
| LP472023 | 180mAh | 23 x 20 x 4.7 | 3.7V |
| LP472025 | 180mAh | 25 x 20 x 4.7 | 3.7V |
| LP481037 | 130mAh | 37 x 10 x 4.8 | 3.7V |
| LP481324 | 120mAh | 24 x 13 x 4.8 | 3.7V |
| LP481523 | 155mAh | 23 x 15 x 4.8 | 3.7V |
| LP481525 | 120mAh | 25 x 15 x 4.8 | 3.7V |
| LP491133 | 150mAh | 33 x 11 x 4.9 | 3.7V |
| LP491729 | 160mAh | 29 x 17 x 4.9 | 3.7V |
| LP492025 | 150mAh | 25 x 20 x 4.9 | 3.7V |
| LP500831 | 100mAh | 31 x 8 x 5 | 3.7V |
| LP500935 | 120mAh | 35 x 9 x 5 | 3.7V |
| LP500950 | 180mAh | 50 x 9 x 5 | 3.7V |
| LP501026 | 100mAh | 26 x 10 x 5 | 3.7V |
| LP501028 | 100mAh | 28 x 10 x 5 | 3.7V |
| LP501030 | 110mAh | 30 x 10 x 5 | 3.7V |
| LP501033 | 140mAh | 33 x 10 x 5 | 3.7V |
| LP501035 | 140mAh | 35 x 10 x 5 | 3.7V |
| LP501136 | 160mAh | 36 x 11 x 5 | 3.7V |
| LP501145 | 190mAh | 45 x 11 x 5 | 3.7V |
| LP501223 | 100mAh | 23 x 12 x 5 | 3.7V |
| LP501225 | 100mAh | 25 x 12 x 5 | 3.7V |
| LP501225 | 110mAh | 25 x 12 x 5 | 3.7V |
| LP501227 | 150mAh | 27 x 12 x 5 | 3.7V |
| LP501230 | 120mAh | 30 x 12 x 5 | 3.7V |
| LP501235 | 160mAh | 35 x 12 x 5 | 3.7V |
| LP501240 | 190mAh | 40 x 12 x 5 | 3.7V |
| LP501328 | 130mAh | 28 x 13 x 5 | 3.7V |
| LP501429 | 150mAh | 29 x 14 x 5 | 3.7V |
| LP501528 | 150mAh | 28 x 15 x 5 | 3.7V |
| LP501528 | 175mAh | 28 x 15 x 5 | 3.7V |
| LP501528 | 190mAh | 28 x 20 x 5 | 3.7V |
| LP502018 | 160mAh | 18 x 20 x 5 | 3.7V |
| LP502020 | 140mAh | 20 x 20 x 5 | 3.7V |
| LP502020 | 150mAh | 20 x 20 x 5 | 3.7V |
| LP502025 | 180mAh | 25 x 20 x 5 | 3.7V |
| LP511140 | 180mAh | 40 x 11 x 5.1 | 3.7V |
| LP511223 | 115mAh | 23 x 12 x 5.1 | 3.7V |
| LP521225 | 110mAh | 25 x 12 x 5.2 | 3.7V |
| LP521330 | 160mAh | 30 x 13 x 5.2 | 3.7V |
| LP521430 | 180mAh | 30 x 14 x 5.2 | 3.7V |
| LP521725 | 170mAh | 25 x 17 x 5.2 | 3.7V |
| LP521816 | 100mAh | 16 x 18 x 5.2 | 3.7V |
| LP531229 | 140mAh | 29 x 12 x 5.3 | 3.7V |
| LP531430 | 175mAh | 30 x 14 x 5.3 | 3.7V |
| LP541235 | 180mAh | 35 x 12 x 5.4 | 3.7V |
| LP541823 | 170mAh | 23 x 18 x 5.4 | 3.7V |
| LP551230 | 140mAh | 30 x 12 x 5.5 | 3.7V |
| LP551233 | 180mAh | 33 x 12 x 5.5 | 3.7V |
| LP551235 | 180mAh | 35 x 12 x 5.5 | 3.7V |
| LP551323 | 120mAh | 23 x 13 x 5.5 | 3.7V |
| LP551419 | 100mAh | 19 x 14 x 5.5 | 3.7V |
| LP551423 | 120mAh | 23 x 14 x 5.5 | 3.7V |
| LP551521 | 130mAh | 21 x 15 x 5.5 | 3.7V |
| LP561235 | 165mAh | 35 x 12 x 5.6 | 3.7V |
| LP571230 | 190mAh | 30 x 12 x 5.7 | 3.7V |
| LP571235 | 180mAh | 35 x 12 x 5.7 | 3.7V |
| LP581519 | 100mAh | 19 x 15 x 5.8 | 3.7V |
| LP581620 | 170mAh | 20 x 16 x 5.8 | 3.7V |
| LP601025 | 110mAh | 25 x 10 x 6 | 3.7V |
| LP601130 | 150mAh | 30 x 11 x 6 | 3.7V |
| LP601224 | 130mAh | 24 x 12 x 6 | 3.7V |
| LP601230 | 170mAh | 30 x 12 x 6 | 3.7V |
| LP601430 | 190mAh | 30 x 14 x 6 | 3.7V |
| LP601519 | 110mAh | 19 x 15 x 6 | 3.7V |
| LP601522 | 150mAh | 22 x 15 x 6 | 3.7V |
| LP601525 | 170mAh | 25 x 15 x 6 | 3.7V |
| LP601528 | 180mAh | 28 x 15 x 6 | 3.7V |
| LP601622 | 155mAh | 22 x 16 x 6 | 3.7V |
| LP602020 | 190mAh | 20 x 20 x 6 | 3.7V |
| LP611724 | 180mAh | 24 x 17 x 6.1 | 3.7V |
| LP621230 | 160mAh | 30 x 12 x 6.2 | 3.7V |
| LP621819 | 150mAh | 19 x 18 x 6.2 | 3.7V |
| LP622020 | 190mAh | 20 x 20 x 6.2 | 3.7V |
| LP651622 | 170mAh | 22 x 16 x 6.5 | 3.7V |
| LP662018 | 155mAh | 18 x 20 x 6.6 | 3.7V |
| LP681123 | 120mAh | 23 x 11 x 6.8 | 3.7V |
| LP681423 | 150mAh | 23 x 14 x 6.8 | 3.7V |
| LP701023 | 120mAh | 23 x 10 x 7 | 3.7V |
| LP701220 | 115mAh | 20 x 12 x 7 | 3.7V |
| LP701323 | 150mAh | 23 x 13 x 7 | 3.7V |
| LP701421 | 140mAh | 21 x 14 x 7 | 3.7V |
| LP701522 | 160mAh | 22 x 15 x 7 | 3.7V |
| LP701525 | 190mAh | 25 x 15 x 7 | 3.7V |
| LP701717 | 110mAh | 17 x 17 x 7 | 3.7V |
| LP701820 | 180mAh | 20 x 18 x 7 | 3.7V |
| LP721819 | 170mAh | 19 x 18 x 7.2 | 3.7V |
| LP731126 | 145mAh | 26 x 11 x 7.3 | 3.7V |
| LP751220 | 115mAh | 20 x 12 x 7.5 | 3.7V |
| LP751520 | 150mAh | 20 x 15 x 7.5 | 3.7V |
| LP751717 | 140mAh | 17 x 17 x 7.5 | 3.7V |
| LP803048 | 150mAh | 48 x 30 x 8 | 3.7V |
| LP831517 | 120mAh | 17 x 15 x 8.3 | 3.7V |
| LP871518 | 150mAh | 18 x 15 x 8.7 | 3.7V |




The other lipo battery applications
Rebar Detecter | Protable Hardness Tester | Flaw Detector | Moisture Instrument in Concrete | Bike Wireless Computer | Mobile Sensors | Wris-wom Swimming Wearaable | Facial Motion Capture | Fully Automated Pull-Off Tester | Navigation Device on Social Bicycles | Miro Jeweiry Box | Ultrasonic Imaging | Personal Shaving Cup | Smart Medivine Bottle | Smart Walkie-Talkies | Smart Sleep Glasses | Smart Assistant Watch | Mobile Projector | Fingerprint Padlock | Wireless Speaker System | Thinnest Foldable Bluetooth Mouse | Vehicle Monitoring Device | Car Gadget | Boogie Dice | Health Tracking Headband | Smart LED Light | Smart Bra | Handbag Light | Bike Safety Light | Hand Held and Esthetically Lamp | Power Dock | Fidget Controller Gadget | Camera Slider Track Dolly | Wireless Smart Speaker | Asthma Inhaler | Stimulus Generators | Smart Video Door Bell | Wireless Mobile Video Solution | Wireless Device | Lab Automation | Emergency Mobile | Wireless Installation | Fiber Optic Tester | Geolocation Gadgets | Hand Held Instrument Biometric Device | Portable PIC Programmer | Nike Sport Watch | Vehicle Traveling Data Recorder | Linx Impact Assessment System and Blast Gauge System | Wireless Installation AHRS | Digital Wi-Fi Microscopes | Electrocardiograph | RF Analyser | Active 3D Shutter Glasses | Oxygen Monitor | Polysomnography (PSG) | Sleep Apnea Screening | Long Term Blood Pressure Measurement | Smallest long-term EEG recorder | Technical Data Screen | Vehicle Gauging | Watch Recorder | Smart Touchless Faucet Adapter