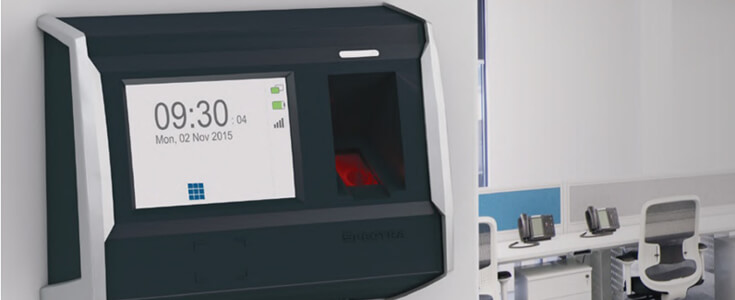 LiPo Battery 1000mAh for Backup of Biometric Reader

For recording employee attendant e, it gets a distinct advantage of field-proven fingerprint authentication technology. The lithium polymer battery 1000mAh can support 2 hours of backup operational working. It can ensure that attendance is recorded even during mains failure.
The device has an inbuilt GSM function for data transfer. It is very convenient for locations where there is no network connectivity. The attendance records can be transferred to the server without any intervention directly.

The device is the elegant appearance with its smooth finishing. The moisture resistance and other environmental agents are desirable characteristics. The robust gray tonality helps it merge with surrounding interiors and making for a chiseled decor. It's very convenient to update device software through the Ethernet interface. It no needs to send the device back to the service center, which can update easily be applied.

This product can easily be hooked on to the existing TCP/IP network with leveraging on the merits of IP based networkable device. In this case, the data can e transferred in real time mode to a centralized server for instant usage.

The device equipped with the most reliable fingerprint matching algorithm ensures unrivaled accuracy with best verification results by its rugged optical fingerprint sensor. It keeps ticking of finger changes over the period and takes care of dry, wet and swollen fingers by its auto finger update.
The fingerprint template can be stored on the Mifare card to facilitate data portability & unlimited users. It supports popular RFID technologies with inbuilt EM reader an option of having Mifare, HID iClass, and HID Prox readers.

The portable device is offering with a sound RFID authentication technology. It provides many usage choices to its users being easy to carry and use. It's smooth data communication across channels. It can communicate via many interfaces such as WIFI, GPRS, USB, and inbuilt GPS to better process your data transfers. The device gives companies untroubled and paperless access control. It can no need to connect electricity with its backup lithium polymer battery 1000mAh maintain for 2-3 hours.
Lithium Polymer Battery 1000mAh Details
| | |
| --- | --- |
| Battery Type | |
| Part Number | LP503450 |
| Voltage @ Capacity | 3.7V @ 1000mAh |
| Comfiguration | 1S1P |
| Wires | UL1571 26AWG 50mm*2 |
| | JST PHR-2 |
| Cut-off Voltage | 2.75V |
| Thermistor (NTC) | NO |
| Dimension | 50 x 34 x 5,0mm |
| Charge Temperature | 0°C to +45°C |
| Discharge Temperature | -20°C to +60°C |
| Storage Temperature | -20°C to +45°C |
Lithium Polymer Batteries 1000mAh +




| | | | |
| --- | --- | --- | --- |
| part no. | capacity | Dimension (mm) | Voltage |
| LP202060 | 100mAh | 60 x 20 x 2.0 | 3.7V |
| LP221838 | 100mAh | 38 x 18 x 2.2 | 3.7V |
| LP241838 | 100mAh | 38 x 18 x 2.4 | 3.7V |
| LP242530 | 130mAh | 30 x 25 x 2.4 | 3.7V |
| LP251744 | 130mAh | 44 x 17 x 2.5 | 3.7V |
| LP252030 | 100mAh | 30 x 20 x 2.5 | 3.7V |
| LP252030 | 110mAh | 30 x 20 x 2.5 | 3.7V |
| LP252038 | 150mAh | 38 x 20 x 2.5 | 3.7V |
| LP262535 | 180mAh | 35 x 25 x 2.6 | 3.7V |
| LP292125 | 120mAh | 25 x 21 x 2.9 | 3.7V |
| LP301045 | 100mAh | 45 x 10 x 3 | 3.7V |
| LP301360 | 180mAh | 60 x 13 x 3 | 3.7V |
| LP301646 | 185mAh | 46 x 16 x 3 | 3.7V |
| LP301728 | 110mAh | 28 x 17 x 3 | 3.7V |
| LP301730 | 100mAh | 30 x 17 x 3 | 3.7V |
| LP301730 | 110mAh | 30 x 17 x 3 | 3.7V |
| LP301738 | 140mAh | 38 x 17 x 3 | 3.7V |
| LP301745 | 180mAh | 45 x 17 x 3 | 3.7V |
| LP301828 | 110mAh | 28 x 18 x 3 | 3.7V |
| LP302025 | 110mAh | 25 x 20 x 3 | 3.7V |
| LP302030 | 120mAh | 30 x 20 x 3 | 3.7V |
| LP302030 | 130mAh | 30 x 20 x 3 | 3.7V |
| LP302030 | 140mAh | 30 x 20 x 3 | 3.7V |
| LP302035 | 160mAh | 35 x 20 x 3 | 3.7V |
| LP302040 | 190mAh | 40 x 20 x 3 | 3.7V |
| LP302045 | 190mAh | 45 x 20 x 3 | 3.7V |
| LP302228 | 150mAh | 28 x 22 x 3 | 3.7V |
| LP302235 | 170mAh | 35 x 22 x 3 | 3.7V |
| LP302323 | 110mAh | 23 x 23 x 3 | 3.7V |
| LP302430 | 170mAh | 30 x 24 x 3 | 3.7V |
| LP302430 | 180mAh | 30 x 24 x 3 | 3.7V |
| LP302528 | 180mAh | 28 x 25 x 3 | 3.7V |
| LP302530 | 170mAh | 30 x 25 x 3 | 3.7V |
| LP302530 | 180mAh | 30 x 25 x 3 | 3.7V |
| LP302628 | 180mAh | 28 x 26 x 3 | 3.7V |
| LP303321 | 145mAh | 21 x 33 x 3 | 3.7V |
| LP311436 | 120mAh | 36 x 14 x 3.1 | 3.7V |
| LP312326 | 190mAh | 26 x 23 x 3.1 | 3.7V |
| LP321343 | 140mAh | 43 x 13 x 3.2 | 3.7V |
| LP321445 | 160mAh | 45 x 14 x 3.2 | 3.7V |
| LP322022 | 100mAh | 22 x 20 x 3.2 | 3.7V |
| LP322027 | 160mAh | 27 x 20 x 3 | 3.7V |
| LP322826 | 175mAh | 26 x 28 x 3.2 | 3.7V |
| LP323030 | 190mAh | 30 x 30 x 3.2 | 3.7V |
| LP331440 | 160mAh | 40 x 14 x 3.3 | 3.7V |
| LP341921 | 120mAh | 21 x 19 x 3.4 | 3.7V |
| LP342323 | 130mAh | 23 x 23 x 3.4 | 3.7V |
| LP351133 | 100mAh | 33 x 11 x 3.5 | 3.7V |
| LP351448 | 170mAh | 48 x 14 x 3.5 | 3.7V |
| LP351534 | 135mAh | 34 x 15 x 3.5 | 3.7V |
| LP351623 | 112mAh | 23 x 16 x 3.5 | 3.7V |
| LP351626 | 130mAh | 26 x 16 x 3.5 | 3.7V |
| LP351729 | 130mAh | 29 x 17 x 3.5 | 3.7V |
| LP351730 | 120mAh | 30 x 17 x 3.5 | 3.7V |
| LP351735 | 170mAh | 35 x 17 x 3.5 | 3.7V |
| LP351738 | 180mAh | 38 x 17 x 3.5 | 3.7V |
| LP351740 | 180mAh | 40 x 17 x 3.5 | 3.7V |
| LP352025 | 110mAh | 25 x 20 x 3.5 | 3.7V |
| LP352323 | 135mAh | 23 x 23 x 3.5 | 3.7V |
| LP352525 | 160mAh | 25 x 25 x 3.5 | 3.7V |
| LP371040 | 105mAh | 40 x 10 x 3.7 | 3.7V |
| LP371230 | 110mAh | 30 x 12 x 3.7 | 3.7V |
| LP381525 | 100mAh | 25 x 15 x 3.8 | 3.7V |
| LP381528 | 100mAh | 28 x 15 x 3.8 | 3.7V |
| LP381530 | 110mAh | 30 x 15 x 3.8 | 3.7V |
| LP381725 | 110mAh | 25 x 17 x 3.8 | 3.7V |
| LP381921 | 130mAh | 21 x 19 x 3.8 | 3.7V |
| LP382025 | 150mAh | 25 x 20 x 3.8 | 3.7V |
| LP382120 | 110mAh | 20 x 21 x 3.8 | 3.7V |
| LP382525 | 190mAh | 25 x 25 x 3.8 | 3.7V |
| LP391625 | 155mAh | 25 x 16 x 3.9 | 3.7V |
| LP401033 | 100mAh | 33 x 10 x 4 | 3.7V |
| LP401040 | 120mAh | 40 x 10 x 4 | 3.7V |
| LP401133 | 110mAh | 33 x 11 x 4 | 3.7V |
| LP401230 | 110mAh | 30 x 12 x 4 | 3.7V |
| LP401235 | 120mAh | 35 x 12 x 4 | 3.7V |
| LP401235 | 130mAh | 35 x 12 x 4 | 3.7V |
| LP401242 | 170mAh | 42 x 12 x 4 | 3.7V |
| LP401248 | 175mAh | 48 x 12 x 4 | 3.7V |
| LP401323 | 115mAh | 23 x 13 x 4 | 3.7V |
| LP401425 | 100mAh | 25 x 14 x 4 | 3.7V |
| LP401428 | 120mAh | 28 x 14 x 4 | 3.7V |
| LP401429 | 130mAh | 29 x 14 x 4 | 3.7V |
| LP401430 | 120mAh | 30 x 14 x 4 | 3.7V |
| LP401522 | 100mAh | 22 x 15 x 4 | 3.7V |
| LP401537 | 170mAh | 37 x 15 x 4 | 3.7V |
| LP401622 | 100mAh | 22 x 16 x 4 | 3.7V |
| LP401633 | 150mAh | 33 x 16 x 4 | 3.7V |
| LP401725 | 110mAh | 25 x 17 x 4 | 3.7V |
| LP401725 | 120mAh | 25 x 17 x 4 | 3.7V |
| LP401730 | 150mAh | 30 x 17 x 4 | 3.7V |
| LP401730 | 160mAh | 30 x 17 x 4 | 3.7V |
| LP401730 | 170mAh | 30 x 17 x 4 | 3.7V |
| LP402020 | 110mAh | 20 x 20 x 4 | 3.7V |
| LP402024 | 160mAh | 24 x 20 x 4 | 3.7V |
| LP402025 | 150mAh | 25 x 20 x 4 | 3.7V |
| LP402028 | 180mAh | 28 x 20 x 4 | 3.7V |
| LP402030 | 180mAh | 30 x 20 x 4 | 3.7V |
| LP402030 | 180mAh | 30 x 20 x 4 | 3.7V |
| LP402030 | 190mAh | 30 x 20 x 4 | 3.7V |
| LP402127 | 190mAh | 27 x 21 x 4 | 3.7V |
| LP421130 | 110mAh | 30 x 11 x 4.2 | 3.7V |
| LP421133 | 125mAh | 33 x 11 x 4.2 | 3.7V |
| LP421645 | 100mAh | 45 x 16 x 4.2 | 3.7V |
| LP421724 | 110mAh | 24 x 17 x 4.2 | 3.7V |
| LP421724 | 125mAh | 24 x 17 x 4.2 | 3.7V |
| LP421730 | 175mAh | 30 x 17 x 4.2 | 3.7V |
| LP422025 | 180mAh | 25 x 20 x 4.2 | 3.7V |
| LP431426 | 110mAh | 26 x 14 x 4.3 | 3.7V |
| LP441133 | 120mAh | 33 x 11 x 4.4 | 3.7V |
| LP451225 | 100mAh | 25 x 12 x 4.5 | 3.7V |
| LP451226 | 110mAh | 26 x 12 x 4.5 | 3.7V |
| LP451421 | 105mAh | 21 x 14 x 4.5 | 3.7V |
| LP451423 | 110mAh | 23 x 14 x 4.5 | 3.7V |
| LP451430 | 150mAh | 30 x 14 x 4.5 | 3.7V |
| LP451522 | 100mAh | 22 x 15 x 4.5 | 3.7V |
| LP451524 | 120mAh | 24 x 15 x 4.5 | 3.7V |
| LP451528 | 150mAh | 28 x 15 x 4.5 | 3.7V |
| LP451632 | 180mAh | 32 x 16 x 4.5 | 3.7V |
| LP451725 | 120mAh | 25 x 17 x 4.5 | 3.7V |
| LP451827 | 160mAh | 27 x 18 x 4.5 | 3.7V |
| LP461435 | 180mAh | 35 x 14 x 4.6 | 3.7V |
| LP461730 | 185mAh | 30 x 17 x 4.6 | 3.7V |
| LP472023 | 180mAh | 23 x 20 x 4.7 | 3.7V |
| LP472025 | 180mAh | 25 x 20 x 4.7 | 3.7V |
| LP481037 | 130mAh | 37 x 10 x 4.8 | 3.7V |
| LP481324 | 120mAh | 24 x 13 x 4.8 | 3.7V |
| LP481523 | 155mAh | 23 x 15 x 4.8 | 3.7V |
| LP481525 | 120mAh | 25 x 15 x 4.8 | 3.7V |
| LP491133 | 150mAh | 33 x 11 x 4.9 | 3.7V |
| LP491729 | 160mAh | 29 x 17 x 4.9 | 3.7V |
| LP492025 | 150mAh | 25 x 20 x 4.9 | 3.7V |
| LP500831 | 100mAh | 31 x 8 x 5 | 3.7V |
| LP500935 | 120mAh | 35 x 9 x 5 | 3.7V |
| LP500950 | 180mAh | 50 x 9 x 5 | 3.7V |
| LP501026 | 100mAh | 26 x 10 x 5 | 3.7V |
| LP501028 | 100mAh | 28 x 10 x 5 | 3.7V |
| LP501030 | 110mAh | 30 x 10 x 5 | 3.7V |
| LP501033 | 140mAh | 33 x 10 x 5 | 3.7V |
| LP501035 | 140mAh | 35 x 10 x 5 | 3.7V |
| LP501136 | 160mAh | 36 x 11 x 5 | 3.7V |
| LP501145 | 190mAh | 45 x 11 x 5 | 3.7V |
| LP501223 | 100mAh | 23 x 12 x 5 | 3.7V |
| LP501225 | 100mAh | 25 x 12 x 5 | 3.7V |
| LP501225 | 110mAh | 25 x 12 x 5 | 3.7V |
| LP501227 | 150mAh | 27 x 12 x 5 | 3.7V |
| LP501230 | 120mAh | 30 x 12 x 5 | 3.7V |
| LP501235 | 160mAh | 35 x 12 x 5 | 3.7V |
| LP501240 | 190mAh | 40 x 12 x 5 | 3.7V |
| LP501328 | 130mAh | 28 x 13 x 5 | 3.7V |
| LP501429 | 150mAh | 29 x 14 x 5 | 3.7V |
| LP501528 | 150mAh | 28 x 15 x 5 | 3.7V |
| LP501528 | 175mAh | 28 x 15 x 5 | 3.7V |
| LP501528 | 190mAh | 28 x 20 x 5 | 3.7V |
| LP502018 | 160mAh | 18 x 20 x 5 | 3.7V |
| LP502020 | 140mAh | 20 x 20 x 5 | 3.7V |
| LP502020 | 150mAh | 20 x 20 x 5 | 3.7V |
| LP502025 | 180mAh | 25 x 20 x 5 | 3.7V |
| LP511140 | 180mAh | 40 x 11 x 5.1 | 3.7V |
| LP511223 | 115mAh | 23 x 12 x 5.1 | 3.7V |
| LP521225 | 110mAh | 25 x 12 x 5.2 | 3.7V |
| LP521330 | 160mAh | 30 x 13 x 5.2 | 3.7V |
| LP521430 | 180mAh | 30 x 14 x 5.2 | 3.7V |
| LP521725 | 170mAh | 25 x 17 x 5.2 | 3.7V |
| LP521816 | 100mAh | 16 x 18 x 5.2 | 3.7V |
| LP531229 | 140mAh | 29 x 12 x 5.3 | 3.7V |
| LP531430 | 175mAh | 30 x 14 x 5.3 | 3.7V |
| LP541235 | 180mAh | 35 x 12 x 5.4 | 3.7V |
| LP541823 | 170mAh | 23 x 18 x 5.4 | 3.7V |
| LP551230 | 140mAh | 30 x 12 x 5.5 | 3.7V |
| LP551233 | 180mAh | 33 x 12 x 5.5 | 3.7V |
| LP551235 | 180mAh | 35 x 12 x 5.5 | 3.7V |
| LP551323 | 120mAh | 23 x 13 x 5.5 | 3.7V |
| LP551419 | 100mAh | 19 x 14 x 5.5 | 3.7V |
| LP551423 | 120mAh | 23 x 14 x 5.5 | 3.7V |
| LP551521 | 130mAh | 21 x 15 x 5.5 | 3.7V |
| LP561235 | 165mAh | 35 x 12 x 5.6 | 3.7V |
| LP571230 | 190mAh | 30 x 12 x 5.7 | 3.7V |
| LP571235 | 180mAh | 35 x 12 x 5.7 | 3.7V |
| LP581519 | 100mAh | 19 x 15 x 5.8 | 3.7V |
| LP581620 | 170mAh | 20 x 16 x 5.8 | 3.7V |
| LP601025 | 110mAh | 25 x 10 x 6 | 3.7V |
| LP601130 | 150mAh | 30 x 11 x 6 | 3.7V |
| LP601224 | 130mAh | 24 x 12 x 6 | 3.7V |
| LP601230 | 170mAh | 30 x 12 x 6 | 3.7V |
| LP601430 | 190mAh | 30 x 14 x 6 | 3.7V |
| LP601519 | 110mAh | 19 x 15 x 6 | 3.7V |
| LP601522 | 150mAh | 22 x 15 x 6 | 3.7V |
| LP601525 | 170mAh | 25 x 15 x 6 | 3.7V |
| LP601528 | 180mAh | 28 x 15 x 6 | 3.7V |
| LP601622 | 155mAh | 22 x 16 x 6 | 3.7V |
| LP602020 | 190mAh | 20 x 20 x 6 | 3.7V |
| LP611724 | 180mAh | 24 x 17 x 6.1 | 3.7V |
| LP621230 | 160mAh | 30 x 12 x 6.2 | 3.7V |
| LP621819 | 150mAh | 19 x 18 x 6.2 | 3.7V |
| LP622020 | 190mAh | 20 x 20 x 6.2 | 3.7V |
| LP651622 | 170mAh | 22 x 16 x 6.5 | 3.7V |
| LP662018 | 155mAh | 18 x 20 x 6.6 | 3.7V |
| LP681123 | 120mAh | 23 x 11 x 6.8 | 3.7V |
| LP681423 | 150mAh | 23 x 14 x 6.8 | 3.7V |
| LP701023 | 120mAh | 23 x 10 x 7 | 3.7V |
| LP701220 | 115mAh | 20 x 12 x 7 | 3.7V |
| LP701323 | 150mAh | 23 x 13 x 7 | 3.7V |
| LP701421 | 140mAh | 21 x 14 x 7 | 3.7V |
| LP701522 | 160mAh | 22 x 15 x 7 | 3.7V |
| LP701525 | 190mAh | 25 x 15 x 7 | 3.7V |
| LP701717 | 110mAh | 17 x 17 x 7 | 3.7V |
| LP701820 | 180mAh | 20 x 18 x 7 | 3.7V |
| LP721819 | 170mAh | 19 x 18 x 7.2 | 3.7V |
| LP731126 | 145mAh | 26 x 11 x 7.3 | 3.7V |
| LP751220 | 115mAh | 20 x 12 x 7.5 | 3.7V |
| LP751520 | 150mAh | 20 x 15 x 7.5 | 3.7V |
| LP751717 | 140mAh | 17 x 17 x 7.5 | 3.7V |
| LP803048 | 150mAh | 48 x 30 x 8 | 3.7V |
| LP831517 | 120mAh | 17 x 15 x 8.3 | 3.7V |
| LP871518 | 150mAh | 18 x 15 x 8.7 | 3.7V |




The other lipo battery applications
Rebar Detecter | Protable Hardness Tester | Flaw Detector | Moisture Instrument in Concrete | Bike Wireless Computer | Mobile Sensors | Wris-wom Swimming Wearaable | Facial Motion Capture | Fully Automated Pull-Off Tester | Navigation Device on Social Bicycles | Miro Jeweiry Box | Ultrasonic Imaging | Personal Shaving Cup | Smart Medivine Bottle | Smart Walkie-Talkies | Smart Sleep Glasses | Smart Assistant Watch | Mobile Projector | Fingerprint Padlock | Wireless Speaker System | Thinnest Foldable Bluetooth Mouse | Vehicle Monitoring Device | Car Gadget | Boogie Dice | Health Tracking Headband | Smart LED Light | Smart Bra | Handbag Light | Bike Safety Light | Hand Held and Esthetically Lamp | Power Dock | Fidget Controller Gadget | Camera Slider Track Dolly | Wireless Smart Speaker | Asthma Inhaler | Stimulus Generators | Smart Video Door Bell | Wireless Mobile Video Solution | Wireless Device | Lab Automation | Emergency Mobile | Wireless Installation | Fiber Optic Tester | Geolocation Gadgets | Hand Held Instrument Biometric Device | Portable PIC Programmer | Nike Sport Watch | Vehicle Traveling Data Recorder | Linx Impact Assessment System and Blast Gauge System | Wireless Installation AHRS | Digital Wi-Fi Microscopes | Electrocardiograph | RF Analyser | Active 3D Shutter Glasses | Oxygen Monitor | Polysomnography (PSG) | Sleep Apnea Screening | Long Term Blood Pressure Measurement | Smallest long-term EEG recorder | Technical Data Screen | Vehicle Gauging | Watch Recorder | Smart Touchless Faucet Adapter