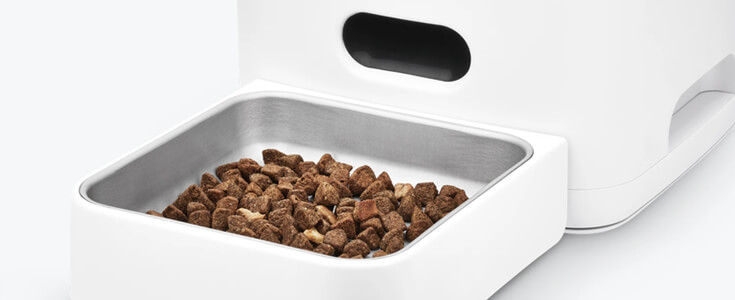 Li-ion Battery LP18650A+ 3500mAh for Smart Feeder

When you are out or have no time to feed your pets, you can use your phone to solve that and check the feeding. Cats don't have nine lives; you can do a great deal to give them the best experience while they are here. When you are on vacation or have fun with your friends, it's unfortunate if you can not feed them on time.

Even if you're running late, you know it will provide your pets on time. The smart feeder can match your dog or cat with personalized food recommendations and portion sizes and inform your pets' age, weight, breed, and activity level. You can understand the quality of your pet's food with unbiased results, based on ingredients alone. Once you've set up with a smart feeder, your smart feeder, and paired it to App on your phone, complete your pet profile by entering the details, such as breed, age, weight, and activity level. The smart feed app will match you with the best food selection and portion dimensions, fully personalized for your pet. From there, you can automate and follow feedings and even feed your pet from Alexa, Google Home, or Apple.

Even power or internet goes out, with a backup Li-Ion Battery 18650, the smart feeder will continue work to operate for up to 7 hours without power or internet. The smart feeder recommends healthy portions based on your pet's age, weight, and activity – and automatically feeds. Receive app alerts for successful feeds, low flood warnings, and more!

Technnical Speces

Technical Specs: Dimensions: 36cm x 23cm x 39cm deep

Power: Rechargeable li-ion battery LP18650A+ 3.7V 3500mAh, USB cable and AC adapter.

Food: Made for kibbles sizes 3.17mm - 15.87mm in diameter – works best with round kibble.

Parts: Bowl, Feeder Base, Food Container with Lid, Aluminum Bowl Insert, Micro USB Cable, and Quick Start Guide.
Li-ion Battery LP18650A+ 3.7V 3500mAh Details

with protection circuit and wires 50mm
| | |
| --- | --- |
| Battery Type | Lithium Ion Battery |
| Part Number | LP18650A+ |
| Voltage @ Capacity | 3.7V @ 3500mAh |
| Comfiguration | 1S1P |
| Wires | UL1571 26AWG 50mm*2 |
| | - |
| Cut-off Voltage | 2.75V |
| Thermistor (NTC) | NO |
| Dimension | 70x18mm |
| Charge Temperature | 0°C to +45°C |
| Discharge Temperature | -20°C to +60°C |
| Storage Temperature | -20°C to +45°C |
Li-ion Batteries LP18650 List


Different capacity of 18650 batteries & different power.

| | | | |
| --- | --- | --- | --- |
| | | | |
| LP18650D | 3.7 | 2200 | 18*65 |
| LP18650C | 3.7 | 2600 | 18*65 |
| LP18650B | 3.7 | 2800 | 18*65 |
| LP18650A | 3.7 | 3200 | 18*65 |
| LP18650A+ | 3.7 | 3500 | 18*65 |
|   |   |   | |
| LP18650D 2P | 3.7 | 4400 | 18*36*65 |
| LP18650C 2P | 3.7 | 5200 | 18*36*65 |
| LP18650B 2P | 3.7 | 5600 | 18*36*65 |
| LP18650A 2P | 3.7 | 6400 | 18*36*65 |
| LP18650A+ 2P | 3.7 | 7000 | 18*36*65 |
|   |   |   | |
| LP18650D 3P | 3.7 | 6600 | 18*54*65 |
| LP18650C 3P | 3.7 | 7800 | 18*54*65 |
| LP18650B 3P | 3.7 | 8400 | 18*54*65 |
| LP18650A 3P | 3.7 | 9600 | 18*54*65 |
| LP18650A+ 3P | 3.7 | 10500 | 18*54*65 |
|   |   |   | |
| LP18650D 2S | 7.4 | 2200 | 18*36*65 |
| LP18650C 2S | 7.4 | 2600 | 18*36*65 |
| LP18650B 2S | 7.4 | 2800 | 18*36*65 |
| LP18650A 2S | 7.4 | 3200 | 18*36*65 |
| LP18650A+ 2S | 7.4 | 3500 | 18*36*65 |
|   |   |   | |
| LP18650D 3S | 11.1 | 2200 | 18*54*65 |
| LP18650C 3S | 11.1 | 2600 | 18*54*65 |
| LP18650B 3S | 11.1 | 2800 | 18*54*65 |
| LP18650A 3S | 11.1 | 3200 | 18*54*65 |
| LP18650A+ 3S | 11.1 | 3500 | 18*54*65 |

The other lipo battery applications
Rebar Detecter | Protable Hardness Tester | Flaw Detector | Moisture Instrument in Concrete | Bike Wireless Computer | Mobile Sensors | Wris-wom Swimming Wearaable | Facial Motion Capture | Fully Automated Pull-Off Tester | Navigation Device on Social Bicycles | Miro Jeweiry Box | Ultrasonic Imaging | Personal Shaving Cup | Smart Medivine Bottle | Smart Walkie-Talkies | Smart Sleep Glasses | Smart Assistant Watch | Mobile Projector | Fingerprint Padlock | Wireless Speaker System | Thinnest Foldable Bluetooth Mouse | Vehicle Monitoring Device | Car Gadget | Boogie Dice | Health Tracking Headband | Smart LED Light | Smart Bra | Handbag Light | Bike Safety Light | Hand Held and Esthetically Lamp | Power Dock | Fidget Controller Gadget | Camera Slider Track Dolly | Wireless Smart Speaker | Asthma Inhaler | Stimulus Generators | Smart Video Door Bell | Wireless Mobile Video Solution | Wireless Device | Lab Automation | Emergency Mobile | Wireless Installation | Fiber Optic Tester | Geolocation Gadgets | Hand Held Instrument Biometric Device | Portable PIC Programmer | Nike Sport Watch | Vehicle Traveling Data Recorder | Linx Impact Assessment System and Blast Gauge System | Wireless Installation AHRS | Digital Wi-Fi Microscopes | Electrocardiograph | RF Analyser | Active 3D Shutter Glasses | Oxygen Monitor | Polysomnography (PSG) | Sleep Apnea Screening | Long Term Blood Pressure Measurement | Smallest long-term EEG recorder | Technical Data Screen | Vehicle Gauging | Watch Recorder | Smart Touchless Faucet Adapter